Gone are the days when shopping malls were just places to shop. Changing consumer preferences have forced mall owners into thinking out of the box to come up with new ways of increasing their foot traffic.
The presence of popular fashion brands isn't enough to attract customers anymore. In fact, nearly 25% of apparel sales happen online, and this number is expected to increase to 31% by 2023. Additionally, major mall groups like GGP have said that they're reducing retail space for apparel tenants to 25% from 50%.
As a result, attracting foot traffic in shopping malls is becoming a challenge in the US. This is why you need to come up with unique attractions in your mall to increase your foot traffic. To help you out, I've put together some of the most innovative shopping mall attractions below:
1. Creactive
Cirque du Soleil, the famous entertainment company, known for its circuses, has joined with a mall based in Toronto. It's one of the most innovative attractions that you can expect in a shopping mall.
Creactive is a one-of-a-kind experience that lets you jump right onto the virtual Cirque du Soleil stage and go way beyond your imagination. You can flex your muscles and learn new circus skills and step into the shoes of the artists performing for the circus. It promises to bring fun-filled entertainment experiences to its audiences once it opens.
You'll get to experience a variety of recreational activities like bungee jumping, mask design, aerial juggling, aerial parkour, track activities, and more.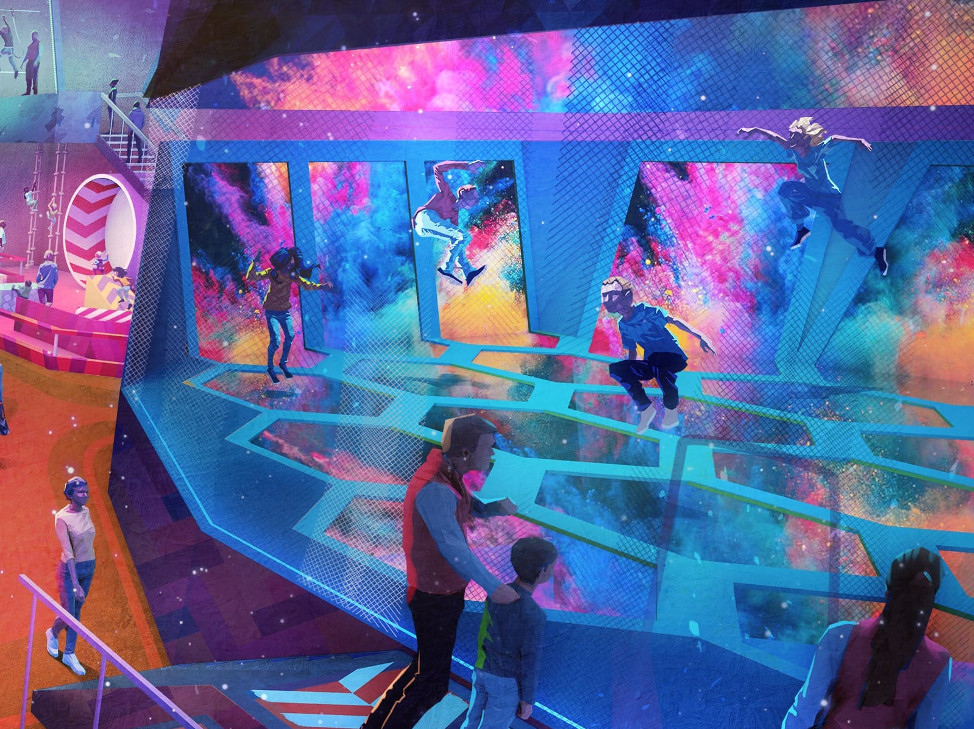 Image via Attractions Magazine
2. Fashion Show
The Fashion Show Mall in Las Vegas offers a very unique attraction for fashion lovers. It gives you a chance to be a part of a fashion show while you're shopping there! Instead of the dull and repetitive trials in the trial room, you can check out your clothes while watching a fashion show.
The mall has a 78 foot long ramp where models walk every weekend with different clothes on. You don't need to look at mannequins to spot your favorite outfits when you're at this mall. All you need to do is head to the ramp area and decide on the clothes you like. All the clothes that the models' sport are available in the shops in the mall. This way, your shopping experience is taken to the next level at the Fashion Show Mall.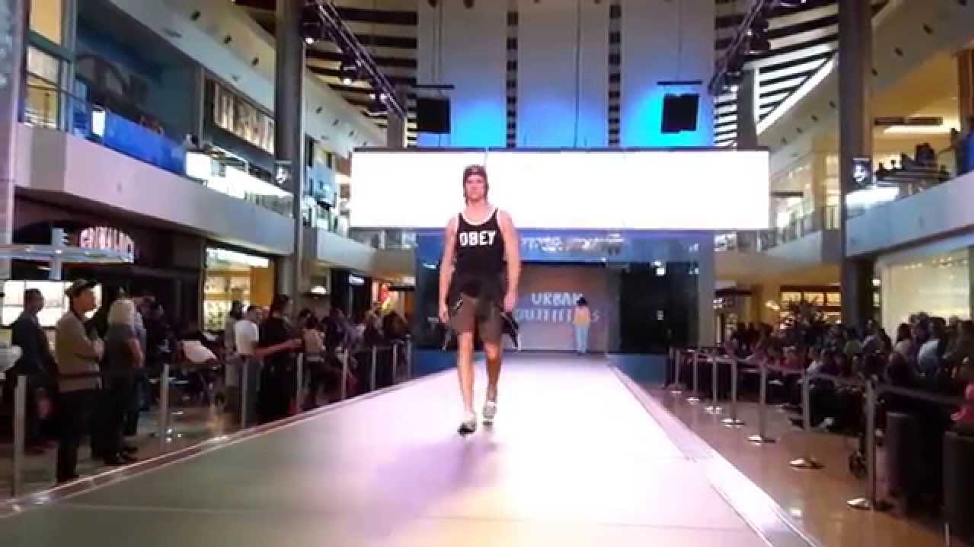 Image via YouTube
3. Skiing
American Dream Meadowlands in New Jersey came up with one of the biggest indoor ski resorts in the world. The skiing arena, which is a one-of-a-kind in the US, opened its doors in December last year. Snowboarders can head to this 16-story high slope descend at full speed to the bottom. The slope is 1000 foot long and 200 foot wide to give you ample space to make all your skiing dreams come true. The temperature here is maintained at 28F throughout the year to give you snow that you can ski on.
Additionally, it has a chairlift that takes you right to the top of the slope so that you can descend once again. You can also play with snow or go down smaller slopes when you're just starting off. The park also offers training sessions to help you ski like a pro.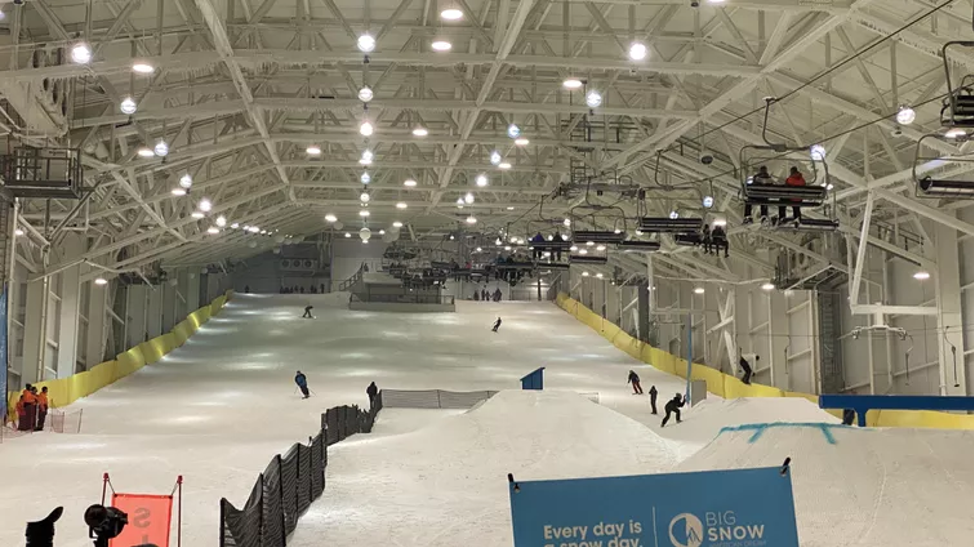 Image via Cnet
4. Indoor Water Park
The West Edmonton Mall in Canada is home to a unique waterpark. The entire waterpark is located inside the premises of the mall and is a major attraction for both residents and tourists. It's spread across five acres and boasts of multiple water slides, children's areas, a massive wave pool, hot tubs, and more. The best part about this place is that it gives you the true tropical feel with warm temperatures in the cold environment of Edmonton.
It also sports an indoor zipline through which you can zip across the waterpark in seconds. You could also choose to surf the waves or go slide boarding here. The park also has a beachfront patio and private cabanas where you can relax post your time in the water. This attraction gets over 560,000 visitors ever year, and this brings in a lot of foot traffic to the mall that gets over 32 million visitors yearly.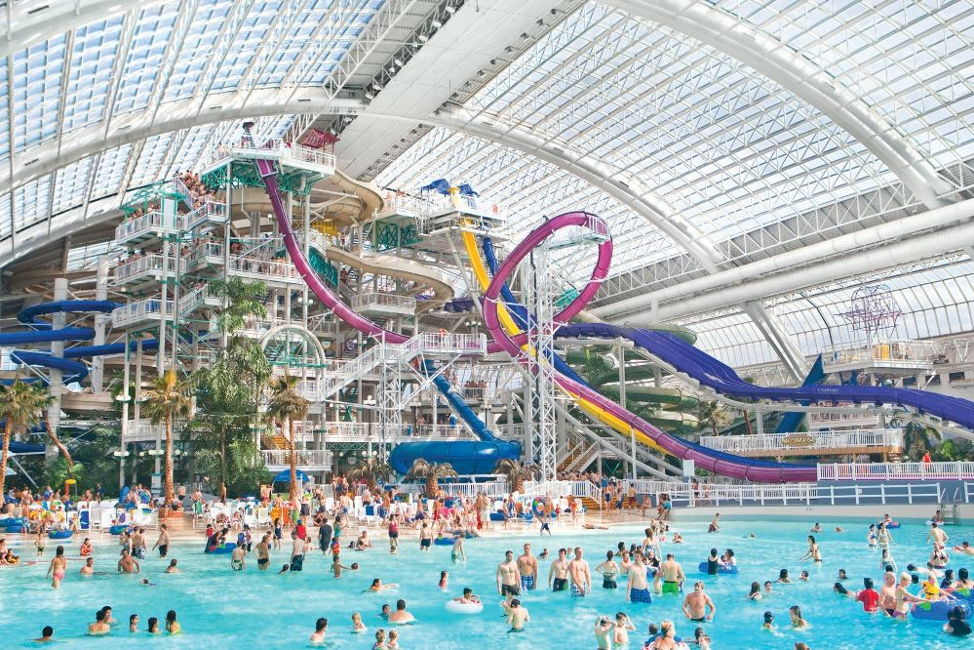 Image via Glassdoor
5. Amusement Park
The Mall of America and American Dream Meadowlands are home to Nickelodeon Universe, two huge amusement parks. The former opened in 2008 while the latter threw open its doors only in October 2019. These parks serve as huge crowd magnets for families with kids looking to have a fun day out. In fact, the former attracts millions of visitors every year while the latter's tickets were sold out on its opening weekend. Kids can meet their favorite characters from Nickelodeon and even enjoy the 27 rides and attractions in the parks.
While a majority of its rides are focused on kids, there are multiple rides for the adults who are seeking some thrill. The park also features some rides for the entire family. It also has two miniature golf courses.
Frequently, the park organizes events to keep visitors entertained throughout the day.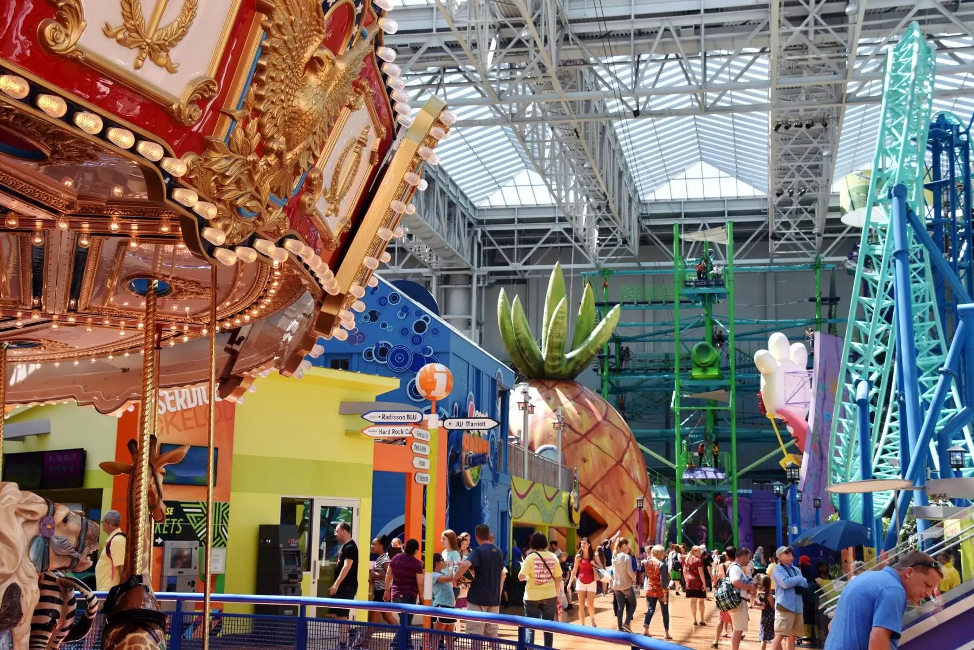 Image via Fodors Travel Guide
Final Thoughts
While the trends may show that interest in American malls is dying, several malls in the country that are bringing innovative attractions to increase their foot traffic. You can take inspiration from these attractions and add such crowd-pullers to your mall too. Else, you can try to bring in some pop-up stores and experiential retail to attract people to your mall, especially Gen Z.
It also helps to bring in some food outlets into your mall to increase your foot traffic even further.
Which are the other innovative shopping mall attractions you've come across? Let me know in the comments.