Events are great-crowd pullers, and by organizing them in your shopping mall, you can increase your footfall with ease. They are great marketing tactics through which you can increase the sales of your store tenants as well. This is perhaps the reason why it's so common to see shopping centers organize events regularly.
In an age where the digital space dominates marketing, events can be a great way of giving a quality experience to your audience. They give you the opportunity to create human connections as well, which isn't possible through digital media. Here are some of the best mall marketing event ideas you can implement with ease.
1. DIY Classes
Hosting DIY classes can be a great way of getting people to your shopping mall. People are always looking out for activities to do, and if you can teach them something new, it'll surely catch their attention. While classes can bring people to your shopping center, you can use it to showcase some products of your tenants as well, depending on the class.
For instance, if you're organizing a wine painting workshop, you could use the wine that's sold by one of the stores in your shopping center. This way, through the class, you'll not only be able to market your shopping mall but also the tenant's products.
Sephora is one of the brands to look up to when it comes to such classes. They regularly host makeup classes at their stores across the world, and this helps them attract all those who're interested in learning the latest makeup techniques.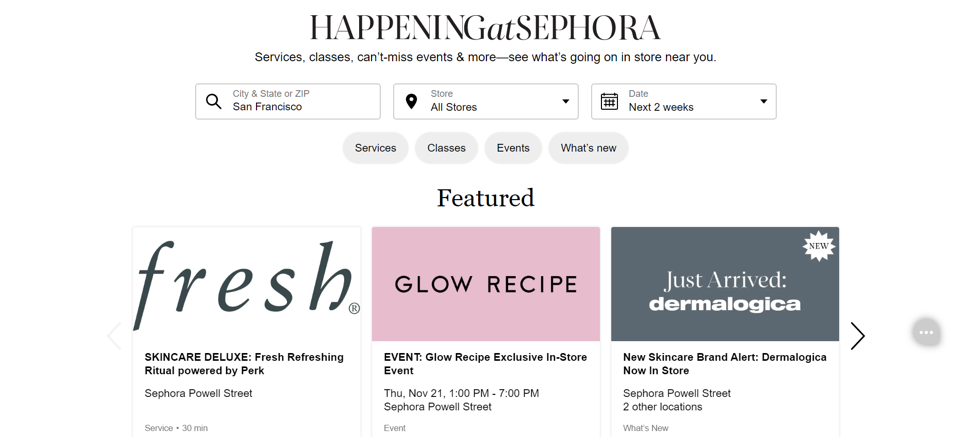 Image via Sephora
2. Product Launches
Product launches can be great events that can attract a huge crowd to your shopping center. Whether it's a new book or a watch, if you host a product launch in your shopping center, it's bound to bring in loads of people. However, you need to ensure that you publicize the product launch well enough to get the most out of it.
You must make sure you make all necessary preparations to ensure a successful product launch. Decorate the shopping center and bring in a festive mood to the place that can excite all those who come to watch the product launch.
3. Store Opening
Whenever a new store or pop-up store opens in your mall, you should use the occasion as an opportunity to market your shopping mall. Spread the word about the opening of the new store and ensure that everyone in your town knows about it. You should market even more aggressively if it's a big brand that's coming to your shopping center, especially if it's not present elsewhere in the town.
Make adequate arrangements to accommodate the crowd that will come in for the opening event. You should also partner with the store owners to launch a promotion or sale on the opening day. This can further help in increasing your foot traffic.
Even if newly arrived customers to your mall aren't aware of a grand opening, you could send out alerts to all those in your shopping mall via proximity marketing. All those shoppers who are connected to your Wi-Fi will instantly receive the notifications, and this can help you get their attention and bring them to the store's opening event.
4. Cultural Events
Cultural events can be huge crowd-pullers, and you can use them for marketing your shopping center with ease. All you need to do is come up with a list of cultural events that might catch the fancy of your town's residents and publicize them.
Ensure that you put up a show that's unlike anything your town's ever seen, and you can be assured that people will throng to your shopping center in thousands. You should deck up your shopping mall to prepare for this event and make sure that your tenants are well-aware of the event as well. You should also make appropriate safety plans, such as the use of an emergency notification system, to ensure the safety of your customers. You could also use such a system to communicate effectively to manage the event as well.
5. Expert Talks
You can bring in experts from a variety of fields to your mall. For instance, you could get a fashion expert to your shopping mall to talk about the latest fashion trends. This would fit extremely well as you are most likely to have an apparel store in your shopping center.
The idea is to bring in experts from various industries so that they can share their expertise with your customers. Those who are genuinely interested in learning something new will definitely make it to your shopping mall. This is yet another event where you can partner with your tenants by hosting it on their premises.
6. Meet-And-Greet
One of the best ways of promoting your shopping center is by organizing meets-and-greets. You could invite some eminent personality, such as an author or a celebrity, to your shopping mall to meet-and-greet your customers.
Not only will this act as a huge crowd-puller but will also help in building your brand image because a famous person chose to come to your shopping center. These events can also be paired with other events such as store openings and product launches to generate more traction.
Final Thoughts
While digital marketing is all the rage today, events still work as a great method of promoting your shopping center. This is why you must add them to your mall marketing strategy too. They can help in giving an unforgettable experience to your customers, unlike any other form of marketing. You could host cultural events, DIY classes, and expert talks to attract people to your shopping mall.
Additionally, you could leverage product launches and store openings to bring people to your shopping center. You can also get in touch with celebrities and bring them to your shopping center for meets-and-greets to further increase your footfall.
What are the other unique shopping center marketing events ideas that you can use to bring people to your shopping mall? Let me know in the comments.