Malls in America are facing a retail apocalypse. Mall vacancies stood at a seven-year high of 9.1% in 2018's third quarter. These large vacancies have led to the collapse of many shopping malls in the country, and about 1211 remain in the nation.
According to analysts, by 2022, almost 25% of the remaining malls might become victims of changing tastes, online shopping, and an increasing wealth gap. As a result, you must take steps to keep your mall relevant for your target customers. Additionally, you need to fill up empty spaces in your shopping mall to ensure that it appears lively at all times. Here are six ways of doing so.
1. Gyms
Many malls across the US have started replacing empty spaces with gyms and health clubs. While the mall business may not be doing well, the fitness industry is booming. The number of gym leases in malls has doubled up in the last five years. Moreover, gym memberships are up by 26% since 2009.
Due to these reasons, gyms can be huge crowd-pullers for your shopping mall. When they visit the mall, they'll not just visit the gym but they'll cross-shop as well. This means that they may dine out, purchase apparel, or even watch movies. This is perhaps the reason why major groups like PREIT have jumped onto the gym bandwagon.
2. Coworking Spaces
Coworking spaces are all the rage today as businesses and freelancers look for flexible workspaces. The number of coworking spaces in the US grew by 16% in 2018. This growth has been consistent for the past five years. The number of flexible workspace locations has increased by 205%.
If your shopping mall has some empty spaces, it is a great idea to lease it out to a coworking space operator or open up one yourself. People who come to your coworking space may want to eat or shop for things too, and this would help in promoting cross-shopping in your mall too. As a result, you might experience an increase in foot traffic as well. Many shopping malls have already started partnering with coworking space operators. For example, Industrious, a coworking company, has secured 40,000 square feet space in Scottsdale Fashion Square.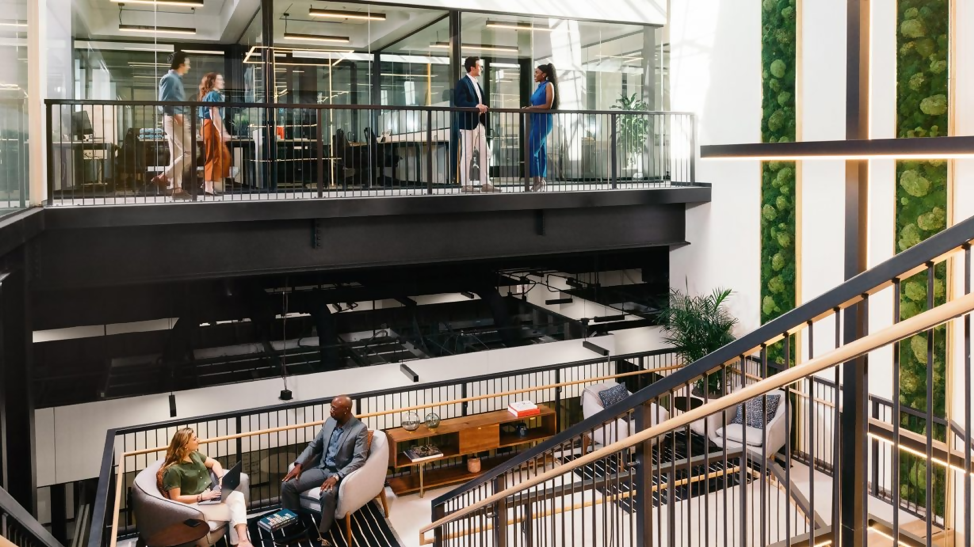 Image via Industrious
3. Escape Rooms
Escape rooms are becoming hot property for shopping malls in the US that are looking to fill up empty spaces. These rooms are venues where people are locked inside the room with numerous riddles. They must solve these puzzles within an hour to escape from the room successfully.
These experiential retail locations can be saviors for shopping malls as some escape rooms can draw more than 20,000 visitors every year. With changing consumer preferences, you should consider more such experiential retail options for your shopping mall.
4. Pop-Up Stores
If you can't find someone to occupy the empty spaces in your shopping mall for a long duration, you can leverage pop-up stores to fill these vacancies. Pop-up stores are temporary establishments that you can set up in your shopping mall.
Brands like Google, Amazon, and Nike are coming up with pop-up stores across the US to promote their brand. They come in very handy when brands are in the nascent stage or want to launch a new product. When different pop-up stores keep opening in your shopping mall, it can attract customers and increase your foot traffic.
It's due to these extensive benefits of pop-up stores that popular mall operators such as Simon have adopted them. They've come up with a dedicated space in their Roosevelt Field mall called "The Edit."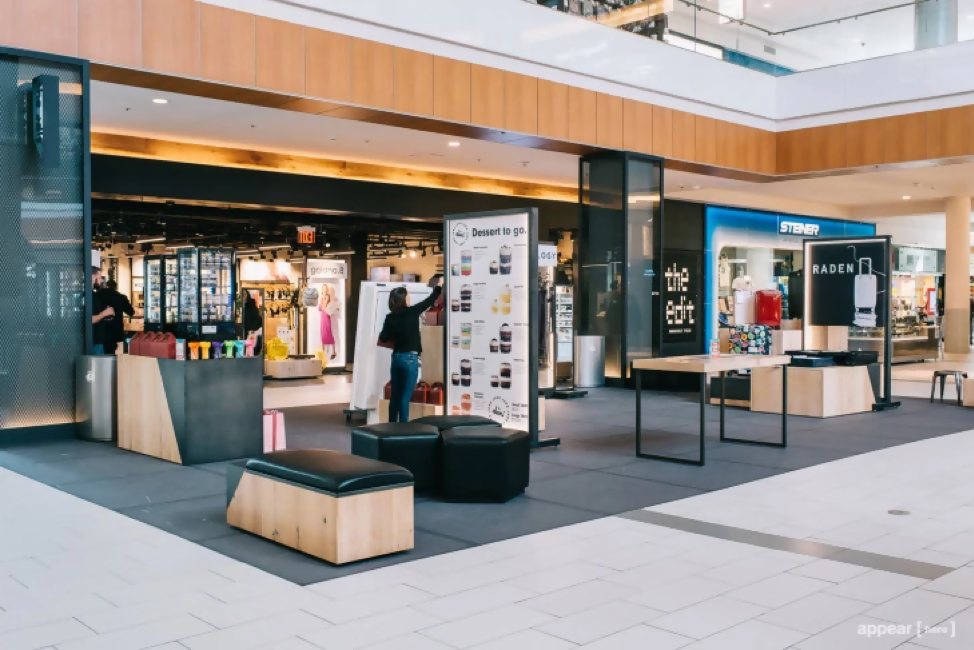 Image via TechCrunch
When using pop-up stores, you need to make sure you have a shopping mall marketing software solution such as M360 which streamlines multi-channel marketing execution, delivers personalized messages to shoppers at the most influential moments, and provides user-friendly reporting on KPIs that matter.
5. Food Courts and Restaurants
Nearly 40% of consumers choose a mall depending on the restaurants in it. According to the same study, those who eat at a shopping mall spend 15% more money and more time there as well. This makes food courts and restaurants a great way of filling up empty space in your shopping mall.
As the demand for apparel brands in malls reduces, the need for quality dining experiences has gone up. Apparel has dropped from 70% to 40% in the recent past. However, the retail space occupied by food, beverage, and entertainment has gone up from 10% in 2006 to 20% in 2018. Additionally, the A-class malls have nearly 25% of their retail space dedicated to restaurants.
Major mall groups like GGP plan to increase the percentage of future food deals to 22% from 11%. On the other hand, they've cut down the number of deals with apparel brands by 50%.
6. Local Stores
Malls used to be filled with national and international brands. However, with these brands vacating the premises, you can look to fill up your empty spaces with local stores. While you may have to be slightly flexible with your rents, it can help you increase your foot traffic as locals would throng to these stores.
You could also give spaces to local eateries that serve healthy food. Many popular malls like Fashion District Philadelphia have added local eateries that serve farm-to-table food. This way, you'll be able to attract people who are interested in supporting local businesses and food as well.
Final Thoughts
Shopping malls in the US are undergoing a change and aren't really dying out. You need to keep up with changing consumer expectations to ensure that your business thrives. For this, you should start filling up the empty spaces in your malls with trending things like gyms and wellness centers. Add more entertainment avenues for people to visit your mall. Bring more food outlets and local stores to increase your foot traffic too.
What are the other ways you can use to fill up spaces in