Move allows company to easily auto-scale based on-demand and provides customers with increased performance and high-availability
"When Pocketstop first moved to Microsoft Azure back in 2012, the easiest and quickest way to get up and running was to use Virtual Machines or VM(s). While this suited us well for many years, we knew that we ultimately wanted to run our platform using all the benefits and features that Azure has to offer." Brian Teague – Chief Technology Evangelist and Co-founder
In order to provide our customers with the best possible service and overall experience, we decided to migrate our Text Message Marketing platform from VM(s) or Virtual Machines to a Web App configuration. In doing so, our team can now spend more time developing new applications, maintaining our current ones and less time managing our server infrastructure. As VMs, Pocketstop was responsible for the overall management of servers, not including patches and hotfixes. In our new environment, Pocketstop can take advantage of Azure App Service and run the platform as a Web App.
As a Web App, we can configure our platform to spin up new virtual machines when the CPU utilization reaches a certain threshold. This is one of the many benefits to running your application in this manner. We can also easily increase the base configuration with a click of a button and add more servers as needed. This comes in handy for a company that provides services to companies running seasonal marketing campaigns. For example, we can easily add servers to accommodate spikes in traffic due to the Christmas Holiday season or to handle a large sporting event. Other benefits include more deployment options, integrated load-balancing and automated staging and rollback features.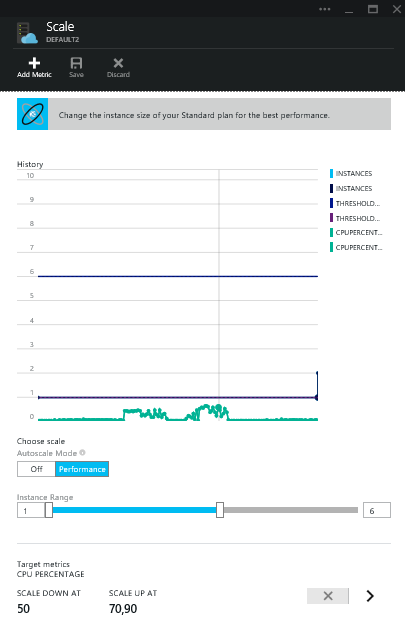 Sample image showing how to Scale a Web App in Azure (image courtesy of Microsoft)
We even created separate Web Apps for our inbound SMS text message handlers. This move allows us to independently scale the two areas of performance that most impact a text message marketing platform. Whether handling large volumes of incoming text messages or pushing out bulk text messages as part of an opt-in marketing campaign, Pocketstop can handle traffic spikes at both ends of spectrum with Microsoft Azure.
For more information on Pocketstop's Text Message Marketing Platform, click here.
For more information on Azure App Service Web App, click here.