When was the last time you went to a shopping mall with the sole intent of buying something? Once perceived as the face of modern retail, many shopping malls are dying a slow death. Today, people often go to malls to hang out with their friends or spend quality time with their family. If your mall fails to engage your audience and provide a memorable experience, they will likely never come back.
For instance, when the Randall Park Mall opened in Ohio in 1976, it was hailed as the world's largest shopping center. However, the mall had reached a vacancy rate of 92% by 2000 but was closed in 2009. In 2018, the mall's remains were replaced by an 855,000 sq. ft. warehouse built by Amazon.
The only way to keep your mall alive is to make it a center of unique experiences. Art is an effective tool that can be of immense help in this regard. Before we discuss how art can help transform a shopping mall, let us quickly understand the reason for their decline.
Why Are Shopping Malls Dying?
The biggest factor that has contributed to the death of many shopping malls is the rapid growth of e-commerce businesses. Online retail stores offer unparalleled comfort and convenience. From accessing hundreds of useful products with just a click to comparing prices of different products - nothing beats the ease of online shopping. Lucrative discounts and offers have further encouraged consumers to switch to online shopping.
Moreover, changing demographics, including rampant urbanization, have left consumers with little time to go shopping. Whatever precious spare time they can manage, they'd like to spend it with their friends and family. Malls that don't offer high-quality entertainment and dining options won't be able to attract huge crowds. This has become even more crucial due to high competition from a plethora of similarly declining malls.
The only way to prevent a mall from becoming outdated is to take it beyond the realm of a traditional shopping center. You must provide your mall audience with an exclusive attraction that will encourage them to visit your mall. One of the most effective ways of doing this is to introduce art into your mall. It can be in the form of a simple installation or a full-blown entertainment experience.
Let us now take a look at the benefits of introducing art in today's shopping malls.
Shopping Malls & Art: A Closer Look
The biggest crisis faced by today's shopping malls is diminished foot traffic. Shopping mall operators are constantly devising new ways to attract consumers. Art can help you grab the attention of such consumers and provide them with a memorable experience. Here's how art can help transform a shopping mall:
Art Creates An Exclusive Experience
Inviting popular and relevant artists to showcase their installations is an extremely effective way of generating a buzz about your mall. Likewise, you can transform your mall into an open art gallery by exhibiting paintings and photographs by famous artists. You can even have a display of unique and modern sculptures.
The biggest advantage of this technique is that it helps you create an experience that is unique to your mall. If people want to take a look at a particular artist's work, they will have to visit your mall. It is something they can't find in any other shopping center. This, in turn, helps boost awareness about your mall and encourages more people to check it out.
This is exactly the strategy that was adopted by Quaker Bridge Mall in Lawrence Township. The New Jersey-based mall collaborated with Grounds for Sculpture to launch "Grounds for Shopping." Under this venture, many sculptors were invited to exhibit their work inside the mall. Here is a glimpse of a few creations by Trenton-based artist Rein Triefeldt: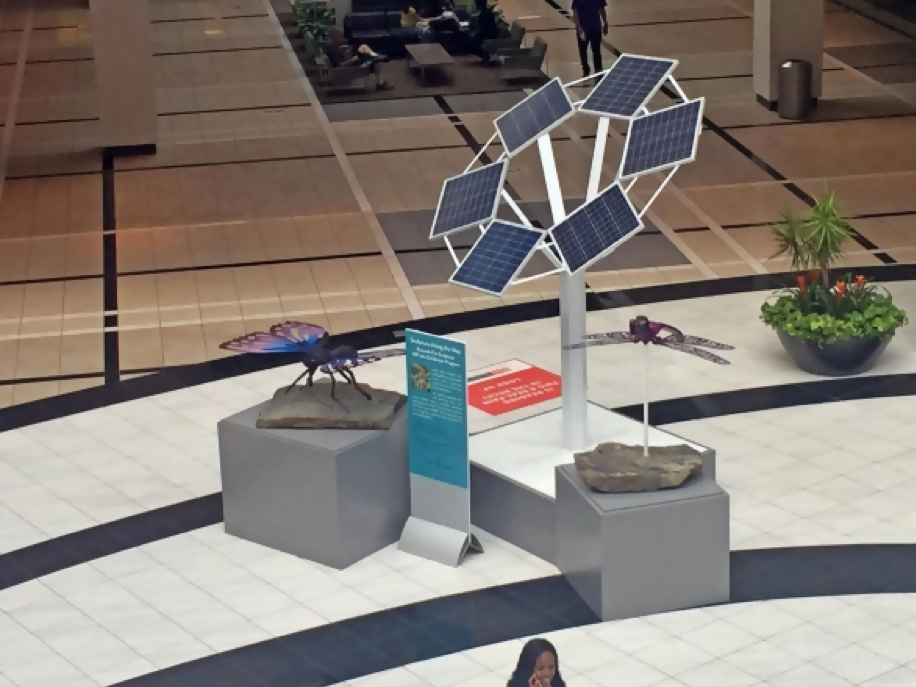 Image via Triefeldt
Art Boosts Visitor Engagement
It is not enough to lure customers to your mall just once. You must provide them with a strong motivation to keep coming back. This is exactly what art helps you achieve by creating an interactive and engaging experience for consumers. It is also a great tool for reinforcing brand awareness.
For instance, when someone spots an interesting sculpture at your mall, they might be tempted to take a selfie with it. This will ensure that the experience remains etched in their memory. Moreover, every time they scroll through their photo gallery on their phone, the selfie will remind them of the time they spent at your mall. This, in turn, will make them want to return and check out if you have any new installations on display.
You can take this up a notch by encouraging mall visitors to share their selfies on social media. Turn this into a contest and use proximity marketing through your guest Wi-Fi to send regular updates to visitors. Ask them to tag your mall in their pictures when posting on social media and even offer to select a winner from these posts eligible for a prize. It is a great way to increase engagement and awareness.
Art Reinforces Retention
It is worth mentioning that art often makes a lasting impression on its audience. This gives your mall a way to remain etched in the memory of its visitors. It stays at the back of their minds and gives them a strong reason to revisit the same mall.
It is also interesting to note that impressive art lets you occupy a place in your visitors' digital archives. This could be in the form of social media posts about a particular piece of art or photographs of the same on their phone. It helps refresh their memory and reminds them of the time they spent at your mall.
Art Can Also Be Entertaining
Nowadays, malls have also become a great option for family bonding. Parents want to spend joyous time with their children after a hectic week at work. They are looking for interactive entertainment options beyond the conventional video game arcades. You can use this to your advantage by introducing unique art and performance-based activities, including workshops, events, concerts, magic shows, etc.
For instance, a Toronto-based mall partnered with Cirque du Soleil to launch a unique family entertainment center. This unique concept, titled Creactive, will feature a circus-based playground that gives the audience a chance to step into a performer's shoes. Mall visitors can choose from a wide array of activities, ranging from juggling and bungee jumping to dance and acrobatics.
This concept puts a spin on the traditional style of leveraging art to boost engagement. It takes the meaning of "hanging out at the mall" to an all-new level and lets families spend quality time. It also ensures that visitors create long-lasting memories and feel enthusiastic about a second visit.
Conclusion
For today's consumers, shopping is no longer the sole purpose of visiting a mall. The convenience of online shopping has given malls a run for their money. The only way for shopping malls to survive is to curate unique experiences for visitors.
Many shopping mall operators have started leveraging art to increase foot traffic and boost audience engagement. It is also a great way to create a memorable experience for visitors. This, in turn, will encourage them to come back for more such experiences.
Do you think artistic collaborations and handpicked experiences will shape the future of shopping malls? Share your thoughts in the comments section below.