Today's cutting-edge technology has changed the way new-age consumers socialize and entertain themselves. From food and groceries to clothes and gadgets - everything can be ordered in just a few clicks. It is becoming increasingly challenging to motivate such consumers to step out of the comfort of their homes. This, in turn, has compelled shopping mall operators to devise new strategies for attracting foot traffic.
It is no longer enough to feature a wide array of high-end brands and fine-dining restaurants inside your shopping mall. You have to include eye-catching enhancements that will set your shopping mall apart from other retail centers. You have to give shoppers a reason to venture outside their living space. Landscape design is an effective way of luring new visitors by making your shopping mall attractive.
In the following sections, we will discuss a few useful landscape design ideas to increase foot traffic at your shopping mall. However, before doing that, let us take a closer look at the concept of landscape design.
Understanding Landscape Design and Its Importance
Simply put, landscape design is the art of creating visually attractive outdoor spaces using various elements such as flowerbeds, plants, water fixtures, etc. It is a combination of art, architecture, and nature that transforms the look of public spaces. Landscape design is traditionally used for public parks and residential complexes. However, you can also use it to give your shopping mall a makeover and create a joyful environment around it.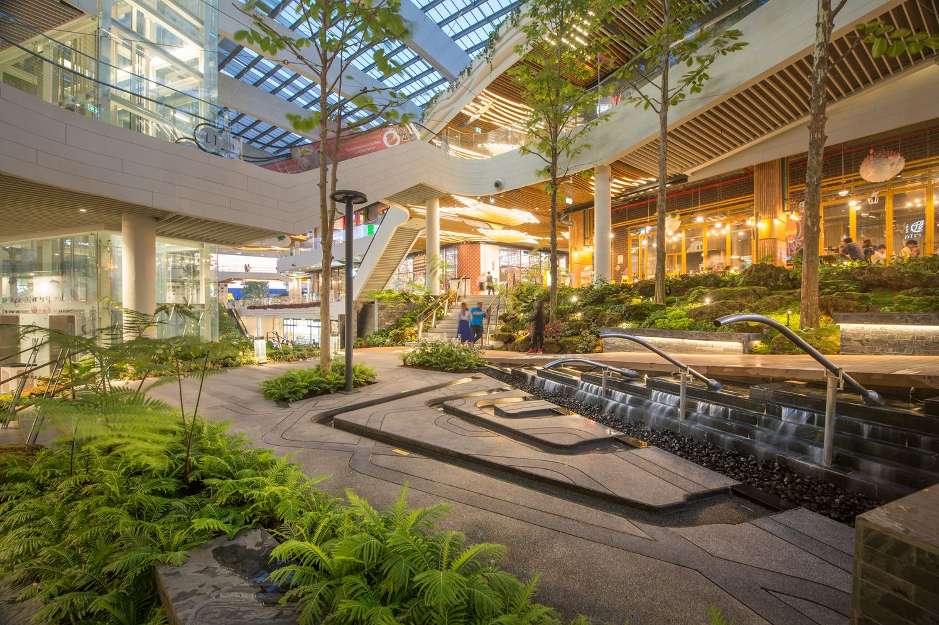 Image via Pinterest
Today's consumers don't visit shopping malls with the sole intention of retail therapy. When they step out of their homes, they are often looking to spend quality time with their family and friends. Instead of luxury retail showrooms, they'd rather prefer casual and intimate spaces where they can hang out with their loved ones. Landscape design is just the tool you need to create such cozy spaces in and around your shopping mall.
Moreover, when implemented correctly, landscape design results in a plethora of spectacular photo-ops in your shopping mall. It encourages visitors to click selfies in your mall and upload them on their social media profiles. This, in turn, helps create a buzz about your mall and lures more visitors. Moreover, it distinguishes your property from other run-of-the-mill shopping malls.
It is also worth mentioning that landscape design helps develop a more welcoming and positive atmosphere inside your mall. This can go a long way to encourage visitors to stay back for longer. The longer they stay inside a mall, the more money they will likely spend. Thus, landscape design can also have a positive impact on the overall foot traffic of your shopping mall.
Now that we know how vital landscape design is for today's shopping malls, let us discuss a few useful ideas.
Effective Landscape Design Ideas
Landscape design can transform your shopping mall from a dull retail complex to a lively space for a family outing. It creates a welcoming ambiance, makes visitors feel comfortable, and has a positive impact on their mindset. It is now time for us to understand how you can use landscape design to increase foot traffic at your shopping mall.
1. Develop a Strategic Layout
Landscape design isn't about adding plants and other random elements throughout a shopping mall. It is essential to identify the right places and enhance their beauty with complimentary fixtures. For instance, you can add shrubs and plants in the corners to break the monotony of metal and concrete.
Likewise, you can use colorful plants to highlight key areas such as walkways and signages. Adding colorful foliage near the entrance of your mall is a great way to welcome visitors. It uplifts a visitor's mood and encourages them to spend more time at the mall. You can also install planters in front of different shop entrances.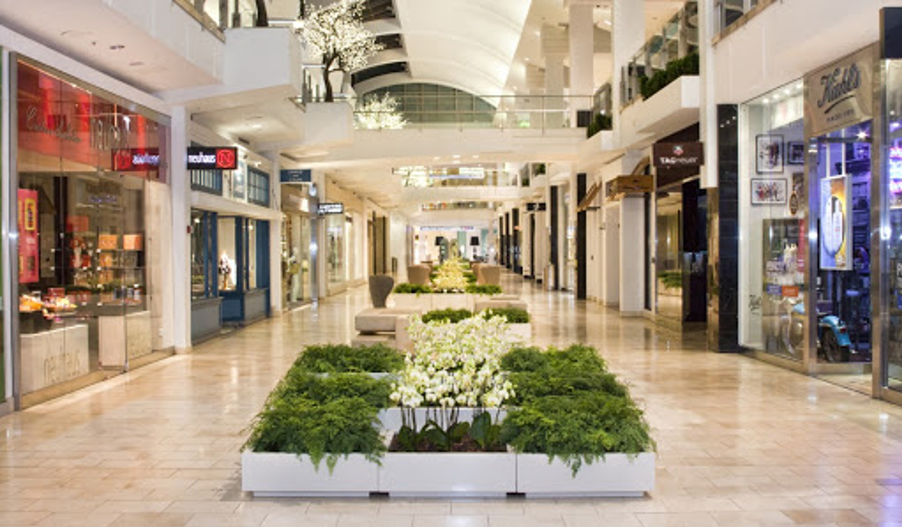 Image via Raimondi HG
2. Use the Right Enhancements
Getting your shopping mall to just resemble a public garden won't have a dramatic effect on foot traffic. You have to utilize other elements of landscape design to uplift the visual appeal of your shopping mall. For instance, you can use waterfalls and fountains to create a more intimate setting. Apart from serving as great photo-ops, such fixtures are huge attractions among children.
Additionally, you can create cozy themed seating areas and patios where visitors can rest after a hectic shopping marathon. You can also install a few tables and chairs covered with massive umbrellas. These are great ways of encouraging them to spend more time at your mall. If your mall has any restaurants with outdoor seating, you can even add planters and other elements in these areas.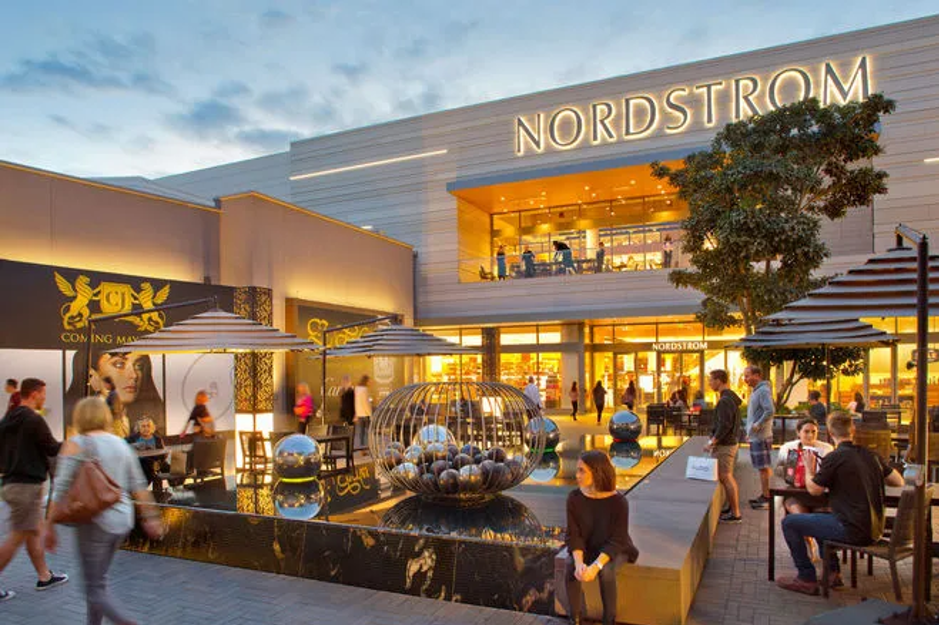 Image via 10Best
3. Add a Seasonal Splash
A crucial part of landscape design is selecting the right foliage according to the climate and geographical location. It is recommended that you use plenty of native plants that require less maintenance and care. Additionally, you should also use seasonal flowering plants to add a pop of color amidst the greenery. While carnations and chrysanthemums bloom well in winter, daffodils and tulips will look more vibrant in spring.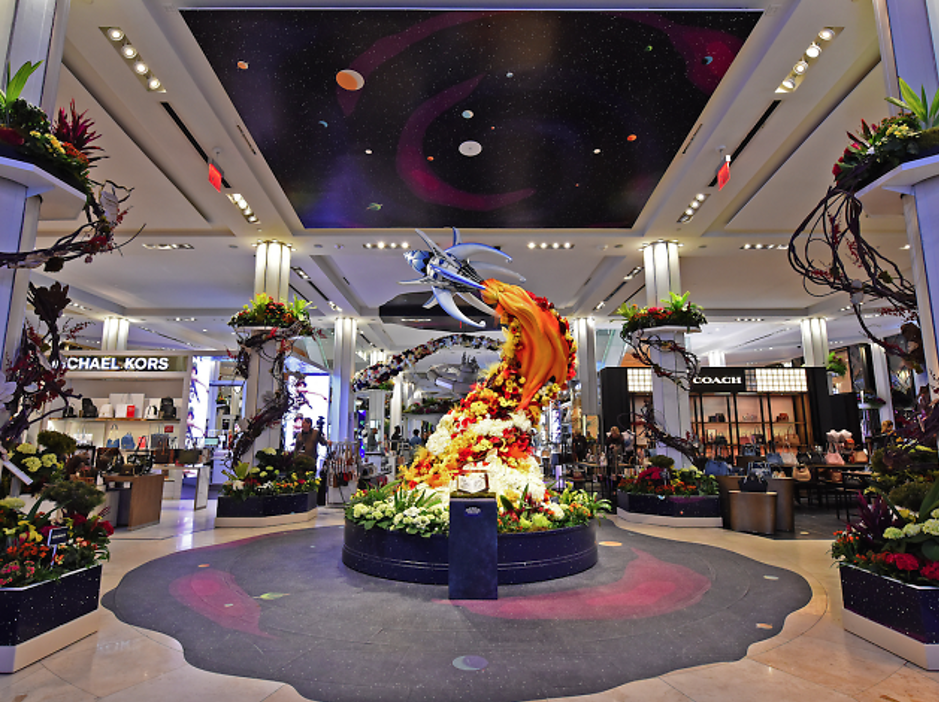 Image via TimeOut
4. Introduce Exotic Plants
Apart from native and seasonal vegetation, you can use exotic plants to transform your mall into an upscale shopping destination. Installing exotic plants from faraway regions creates an unforgettable experience for visitors. It builds the illusion of a getaway for consumers who don't have the time to go on a vacation. It is, however, essential to hire experts who can take proper care of these plants.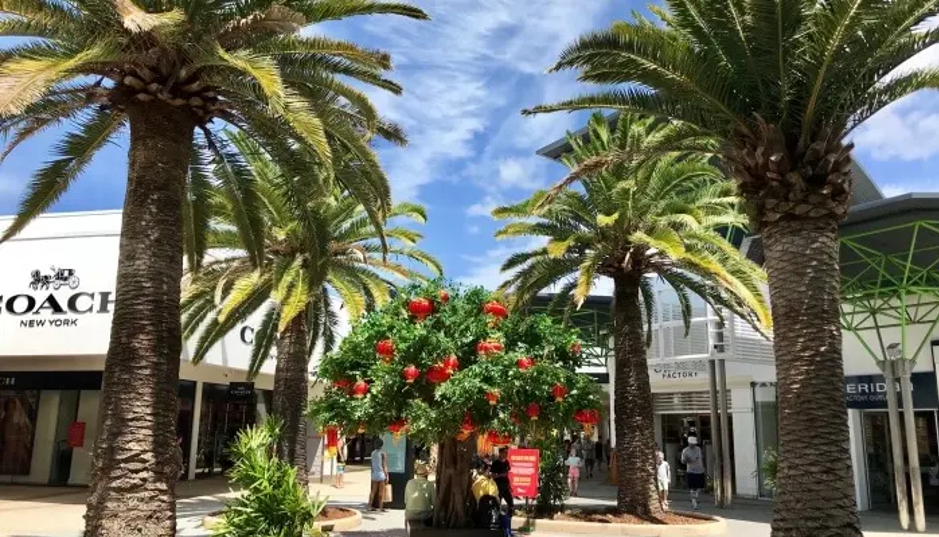 Image via Travel Triangle
5. Leverage Landscape Lighting
Lighting is an often overlooked yet essential part of landscape design. Clever use of lighting fixtures can help direct visitor's attention to vital shops, restaurants, and other areas. You can also use soft lighting to create a warm and cozy ambiance in common seating areas. Likewise, you can use spotlights to illuminate feature plants, signages, and walkways.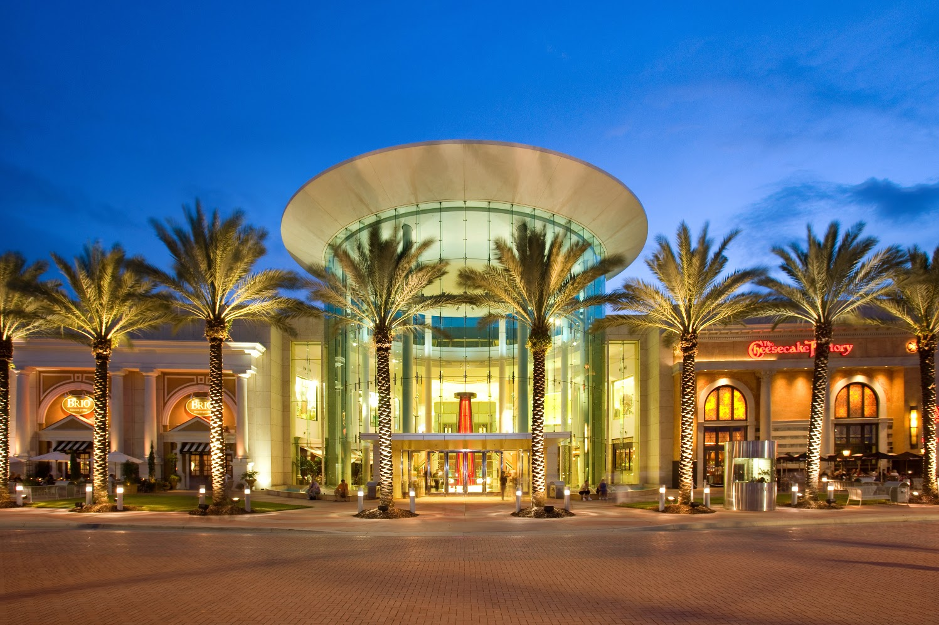 Image via Goodman AMC's Blog
6. Prioritize Maintenance
The same plants that beautify your shopping mall can diminish its visual appeal when left unattended for long periods. No one likes to walk into a shopping mall that is surrounded by tall grass and scruffy weeds. Moreover, tall plants and trees can obstruct parking lots and block shopfronts. Unkempt plants and wilting flowers in outdoor seating areas can act as potential turnoffs.
It is, therefore, crucial to hire an experienced landscape design team to look after your plants and other fixtures. You should ensure that trees are regularly trimmed to maintain their shape. Additionally, all plants should receive proper nourishment and an adequate amount of water. It is equally important to remove dry leaves, wilted flowers, and unwanted wild shrubs from the foliage.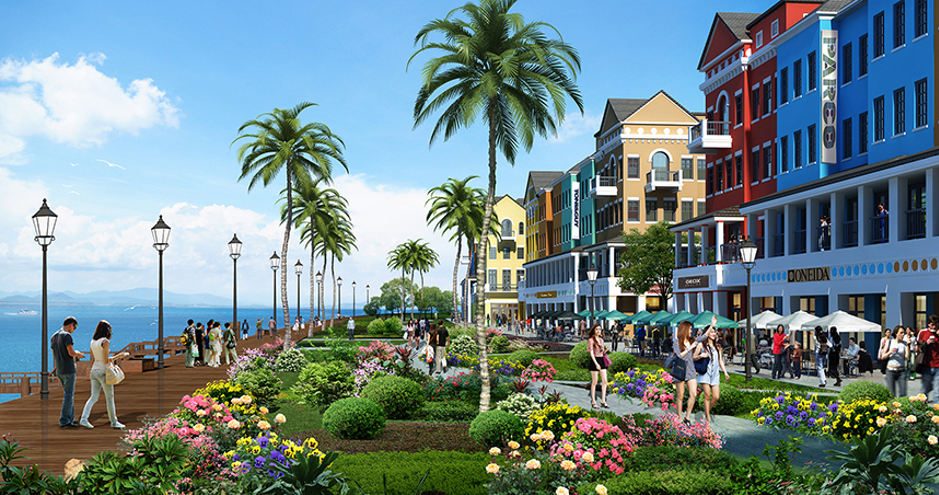 Image via DDG
Conclusion
Landscape design is a powerful technique of tempting consumers to visit your shopping mall. When implemented correctly, it even encourages visitors to spend more time and generates increased revenue. However, it is crucial to design a layout and ensure that you only use meaningful enhancements. In addition to greenery, you can improve the visual allure by installing water fixtures and creating cozy seating areas.
Have you used any landscape design ideas for your shopping mall? Share your views in the comments section below.