Text Marketing Services Are HOT For More Than One Reason
At Pocketstop, one of our jobs is to promote our products and help potential customers and partners better understand our platforms and the infrastructure required to deliver them. Having said that, today's blog post will discuss Pocketstop's Text Marketing Services that run on Microsoft Azure. To learn even more about the text marketing services we offer, check out http://pocketstop.com/text-message-marketing.
[responsive]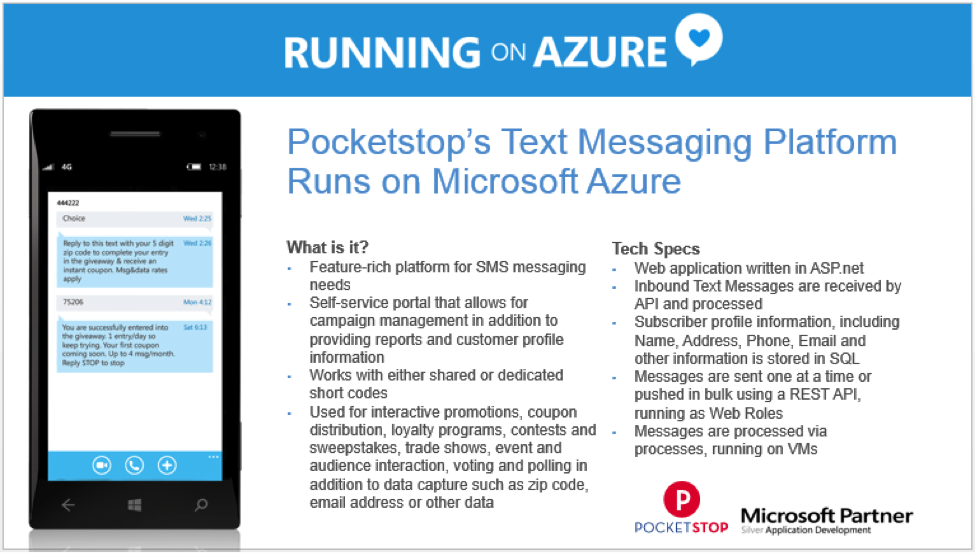 [/responsive]
What are Text Marketing Services?
Just google it and you'll discover there is no better digital marketing tactic than utilizing text marketing services. Text marketing services include a variety of text message marketing campaigns including SMS text message marketing. Text marketing services are HOT, HOT, HOT because text messages have read rates of 90% and greater — even tried and true email marketing can't compete in terms of read rates and consumer engagement. No matter where we are or what we are doing, we are all conditioned to check our phone when it vibrates, dings or whistles a little tune — begging for attention. And not just you and me — but consumers too. It has become second nature to us. This is the true power of text marketing services. Text marketing services are hugely effective in consumer engagement and provide a more personal communication channel, delivered right to a customer's pocket.
What all can I do with a Text Marketing Service?
Text marketing services give you a direct communication channel with customers and potential customers anytime and anywhere. Text messaging also turns the cell phone into a polling or response device in addition to a data collection and data retrieval machine. Let me list those capabilities again:
Direct Communication Channel
Polling/Response Device
Data Collection Point
Data Retrieval Machine
Let's not forget your ability to:
Attract and retain customers
Collect and store customer information
Grow your customer database
Drive sales through coupons, offers and promotions
Drive in-store or online traffic
Gather feedback
The list really could go on….
To send information, all you need is a mobile number and permission from your customer. You can then use the text marketing service from your service provider (like Pocketstop!) to send text messages with coupons and offers, links to forms, surveys, images and videos in addition to basic information like your business address, links to your menu, new products or services, show times and much, much more. To collect data or to allow people to retrieve information from you, all you need is a keyword, short codes and a catchy call-to-action (i.e. "text Free Dessert to 444222 to receive a coupon for a free ice cream cone"). We will work with you to develop a strategic marketing plan around the text marketing services you want. You can then capture leads as well as your consumers' permission and respond back with appropriate content. You can push the content out and the consumers can pull it in with a keyword.
How can I get started with Text Marketing Services?
First, contact Pocketstop who not only provides text marketing services, but also provides professional services to help you create, manage and execute strategic campaigns that are compliant with all digital laws. Next, start by capturing the mobile phone number of every customer and potential customer you have as well as their permission to engage and communicate with them through this powerful channel. Simply add a "Mobile Number" field and a permission check box to your current online registration forms, contest and sweepstakes entry forms, paper forms and any other method used to collect consumer information.
Can I have my own Text Marketing Services?
Yes! Pocketstop is a Microsoft Managed Partner and a born-in-the-cloud ISV (Independent Software Vendor). The text marketing service runs as a cloud-based service in Microsoft Azure. Not only do we enjoy the benefits of state of the art application hosting, but we don't have the operational challenge of supporting on-premises equipment, antiquated data center infrastructure or legacy computer hardware. If you need your own platform, we can build custom solutions for your specific business need. We can then use your existing short code, procure one for you or allow you to use one of ours.
How can I purchase Pocketstop's Text Marketing Services?
Since the text marketing services are a hosted solution, there is no hardware to purchase or software expenditure. To get started, contact your Pocketstop sales representative to schedule a demo. If you don't have a representative, give us a call at 877-840-2444 or email us at info@pocketstop.com. You can also go to www.pocketstop.com and live chat with us today.