The advent of text messaging has revolutionized the way we communicate. Over the years, SMS has also emerged as a powerful marketing tool for businesses. The introduction of OTT (Over The Top) messaging applications such as iMessage and WhatsApp has further enriched the texting experience. In this article, we will explore the key differences between SMS, MMS, iMessage, and RCS.
Let us start with SMS - one of the oldest and most popular methods of texting.
SMS (Short Message Service)
Invented in the 1980s, SMS is a texting technology that allows you to send messages over a cellular network. Unlike modern instant messaging apps, you don't need mobile data or Wi-Fi to send and receive SMS messages. This makes it a convenient option when you have limited internet connectivity.
The biggest advantage of SMS is that you don't have to install a separate app to send and receive messages. It uses the native messaging app available on your phone. Moreover, you can use SMS irrespective of whether you have a smartphone or a feature phone. You can use SMS to communicate with anyone who has a cellular connection, regardless of the type of phone they use.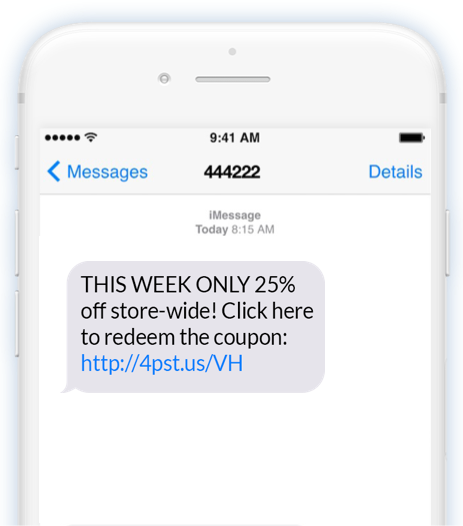 However, there is a limitation on the type of content you can send in SMS messages. It only supports text characters and emojis but you can also add links and URLs in the body of your message. The biggest drawback of SMS is that it doesn't allow you to send multimedia files such as images, videos, audio files, etc. Additionally, it doesn't support advanced features such as group chat, read receipts, and live typing indicator.
The number of characters per SMS message is restricted to 160. Longer messages are automatically divided into separate segments of 160 characters each. These segments are chained together to ensure that you receive them in the order they were sent. SMS also lacks the live chat functionality of instant messaging apps.
Despite its shortcomings, SMS is still widely used. In fact, about 97% of American adults use it every single day. This is largely because of its universal accessibility. Using SMS, you can communicate with people in any part of the world, irrespective of whether they have a smartphone or an internet connection. Most wireless carriers offer a plethora of SMS packs, making it an economical option as well.
Apart from personal communication, SMS is also used by businesses to promote their products and services. For businesses, you can use SMS marketing software to reach out to your potential customers.
MMS (Multimedia Messaging Service)
Just like SMS, MMS also uses a cellular network to transmit messages. The main aspect that sets MMS apart is that it supports multimedia content. Using MMS, you can include pictures, audio files, contact cards, etc. in your text messages. You can use your phone's built-in messaging app to send MMS messages.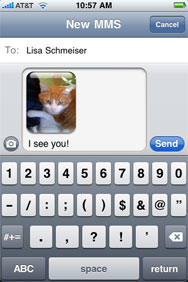 Image via Macworld
Another crucial distinguishing factor is that MMS doesn't have a standard character limit. The maximum permissible size of MMS messages usually varies from one carrier to another. It also depends on the recipient's device. However, 300 KB is widely described as the largest message size that can be handled by most carriers.
There is also a significant difference in the way SMS and MMS messages are delivered. Unlike SMS, your device must be MMS enabled to receive multimedia messages. Otherwise, you will receive a URL to a web-based platform instead of the actual message. You can click on the URL to view the contents of the MMS message using your internet browser.
iMessage
iMessage, an instant messaging service developed by Apple, is supported by iOS devices such as iPhones, iPads, MacBooks, etc. Launched in 2011, iMessage uses the native Messages app on iOS devices. Unlike SMS, it requires cellular data or Wi-Fi to send and receive messages.
iMessage supports a wide variety of content, including multimedia, emojis, stickers, etc. You can even send other data types, including location, YouTube links, etc. through it. Since it uses the internet to transmit messages, iMessage is often more cost-effective when you don't have an SMS pack. It also takes less time to send huge media files than MMS.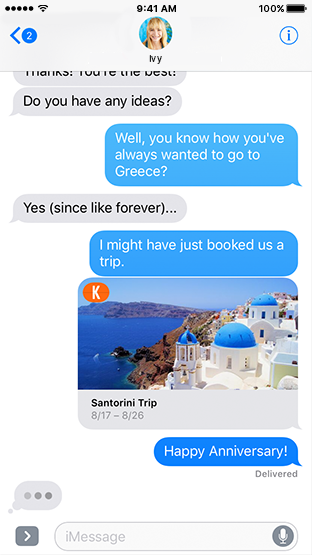 Image via Apple
It is worth pointing out that iMessage is a live chat service that supports read receipts and real-time typing indicator. Moreover, you get access to advanced functionalities such as group chat, voice and video calling, etc. You can also sync iMessage across all your iOS devices. Additionally, it uses end-to-end encryption to safeguard your conversations.
The major shortcoming of iMessage is that it is only compatible with iOS devices. If a recipient doesn't use an Apple device, your message will be converted into a normal SMS message. Likewise, you can only receive iMessages from other iOS users. Moreover, in a group chat, even if one person doesn't have an iOS device, the entire conversation will use SMS or MMS.
Rich Communication Services (RCS)
RCS is Android's effort to improve its built-in messaging application by introducing a plethora of new features. RCS works by converting the native texting app into a live chat platform. It requires an internet connection (mobile data or Wi-Fi) to transmit messages.
RCS supports various data formats, including pictures, videos, location, stickers, emojis, etc. Businesses can also use RCS to send tickets, boarding passes, product delivery alerts, and payment links. The best part is that recipients can complete transactions without exiting the messaging app. Standard OTT messaging app features such as read receipts, typing indicator, group chat, and video calling are also available.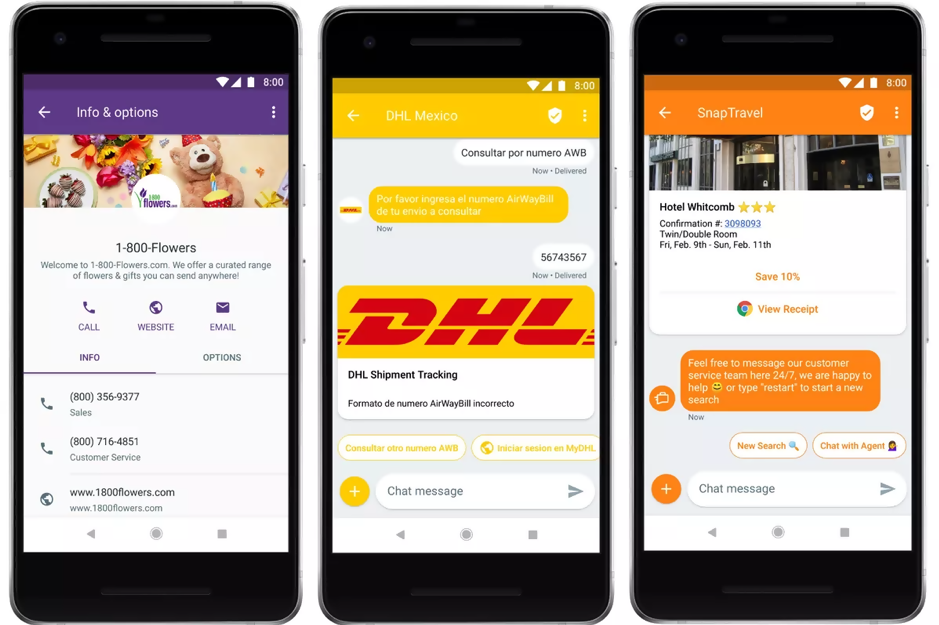 Image via The Verge
RCS also incorporates sender verification. This means businesses will have to get their details verified before they can send messages to their target audience. Moreover, recipients will see a verified sender's name instead of just a phone number (as is the case with SMS). This can be useful for businesses to earn the trust of their audience.
RCS is a relatively new technology that is still being rolled out to Android users across the world. Just like iMessage, it is unavailable on iOS devices at the moment. Therefore, if you are an Android user and wish to communicate with an iOS user, you will have to resort to SMS or other texting apps such as WhatsApp.
It is also important to note that RCS is an opt-in service, at present. To check if your device is compatible with RCS, you have to open the "Settings" menu on your messaging app. If there is an "enable" option in the "Chat" section, your device supports RCS. Alternatively, when your wireless carrier decides to allow RCS, you will receive an alert to enable the service.
Just like iMessage, if the recipient of your message doesn't have an RCS-compatible device, it is converted into an SMS or MMS. Moreover, RCS doesn't have a provision for end-to-end encryption at the moment. While this is likely to change in the future, it is a cause of concern for now.
Conclusion
SMS, MMS, iMessage, and RCS are different texting technologies. While SMS is primarily text-based, it is still a preferred choice for business-related communication. Unlike iMessage and RCS, SMS and MMS don't rely on internet connectivity. However, both RCS and iMessage offer a plethora of advanced features that overcome the shortcomings of SMS.
Do you think RCS, iMessage, and other OTT messaging apps will replace SMS? Share your views in the comments section below.