The retail industry has been experiencing quite a bit of turbulence for quite a few years. The emergence of online stores like Amazon has has had an impact on the profitability of brick and mortar businesses. Consequently, the shopping mall industry has also entered a state of frenzy. Dwindling foot traffic and plummeting revenue have forced many shopping centers to shut their doors.
On the other hand, many malls have reinvented themselves to cater to the needs of today's consumers. If you are a shopping mall operator, it is crucial for you to stay abreast of the latest developments in the industry. From mall closures and shutdowns to emerging trends and insights - it is essential to monitor such news. This will help you give your mall a makeover and transform it into an upscale shopping destination.
The good news is that you can find various online resources for this purpose. While there are many such news portals, you must ensure that you get information from a credible and reputed resource. Here is a list of the best shopping center industry resources:
1. International Council of Shopping Centers (ICSC)
ICSC is the go-to resource for retailers and real estate developers. Founded in 1957, it has grown into a global network with more than 70,000 members. Whether you're an aspiring retailer planning to launch a business or a shopping mall operator struggling with declining profits - ICSC offers something for everyone.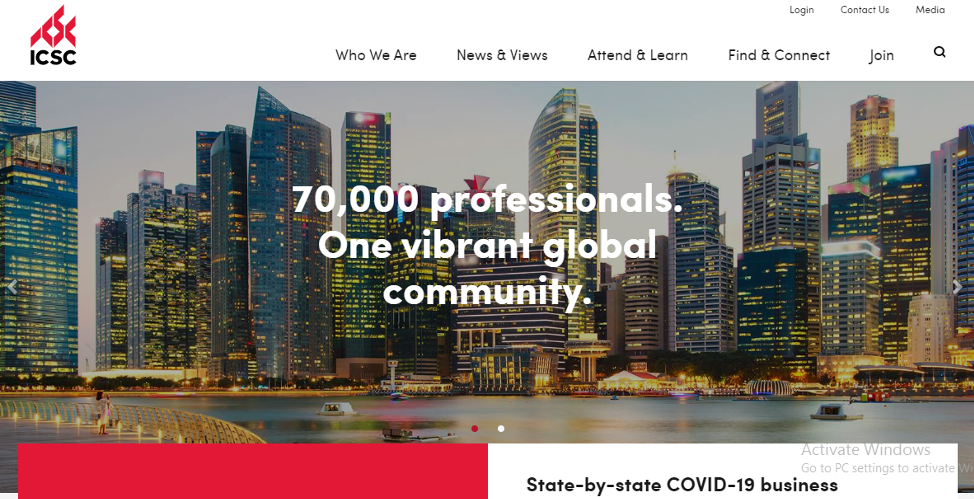 Image via ICSC
On the ICSC website, you will find details of recent developments in the shopping center industry. For instance, the website features regular updates about how various retailers are responding to the COVID-19 pandemic. Such information can come in handy when you're also struggling to keep your business operational in these testing times.
ICSC also organizes various regional and national events for professionals from the retail real estate industry. It gives you the perfect opportunity to network with like-minded individuals and brainstorm new ideas to increase foot traffic. Moreover, ICSC offers a plethora of educational programs to help you upgrade your skills. The foundation also publishes case studies and reports about the latest trends in the shopping center industry.
2. Shopping Center Business
Shopping Center Business brings you the latest news from the retail real estate industry. From new property developments and closures to investment and financial updates - it offers a treasure trove of information. Apart from checking out updates on the website, you can also subscribe to their magazine and weekly newsletter.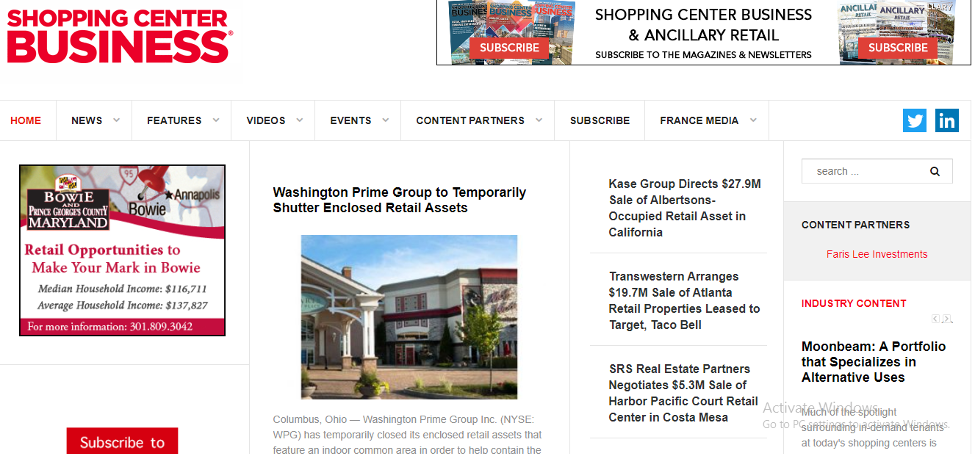 Image via Shopping Center Business
One of the most distinguishing features is the website lets you filter the news according to state which is particularly useful when you want information about leases and investment sales in your state. The website also features details of networking events and conferences organized by its parent company. You can also check out retail news from other initiatives launched by France Media, parent company of Shopping Center Business.
3. Tactics Magazine
If you are looking for innovative ways to keep your shopping mall operational, Tactics Magazine is just the resource for you. The weekly news portal features extensive updates about everything that's happening in the shopping center industry. It includes details on advertising campaigns, technology-based innovations, seasonal marketing initiatives, sales, and events.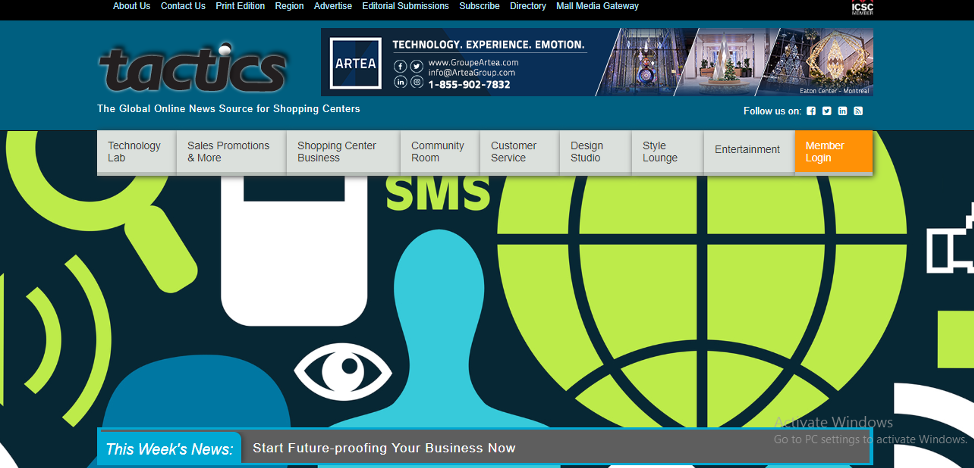 Image via Tactics Magazine
However, Tactics Magazine's strength lies in its insightful content related to the retail real estate industry. From strategies on property management and store operation to tips on professional development - it's a great place to source new ideas. You can also subscribe to their quarterly print editions for more groundbreaking ideas. The print editions focus on new-age ways to promote your shopping mall and reposition it for modern consumers.
4. Where We Buy
This is one of the most unique and useful online resources for retailers and shopping mall operators. Unlike news portals and magazines, Where We Buy is an engaging podcast that discusses various topics about retail and real estate. The podcast has been running for more than four years and has over a hundred episodes.

Image via Where We Buy
What sets Where We Buy apart from other run-of-the-mill podcasts is the quality of conversations it features. It is hosted by James Cook, Director of Retail Research at JLL. Cook brings his years of experience on the show and shares original ideas and fresh insights about the industry.
It is here that you will find the latest updates on how shopping centers across the country are reinventing themselves. Additionally, Cook regularly interviews industry stalwarts, including retail and real estate executives. It ensures that you always gain new takeaways from every episode.
5. Directory of Major Malls (DMM)
DMM was launched in the late 1970s as a print directory of shopping centers. Over the years, it has evolved into a robust and up-to-date online directory that includes complete details of shopping centers across the U.S. and Canada. Apart from enclosed malls, DMM also contains data of other retail projects such as open-air community centers, lifestyle and entertainment destinations, etc.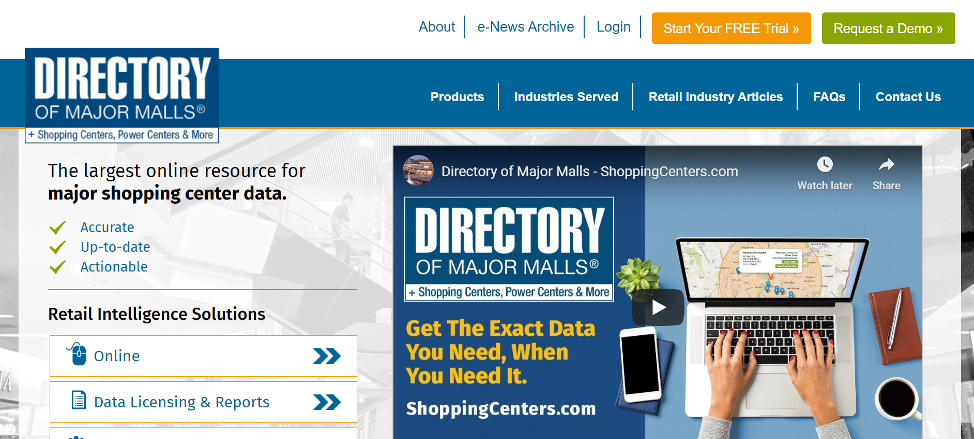 Image via Directory of Major Malls
It is here that you will find the latest information about shopping centers, including property details, leasing plans, list of stores, contact details, etc. This data comes in handy for a wide array of professionals, ranging from retailers and property developers to investors and retail strategists. It's also a great way to monitor your competitors and their marketing strategies. Additionally, you can subscribe to DMM's newsletter for the latest shopping center industry updates.
Conclusion
The retail real estate industry has been in a state of constant change. Whether you're a property developer, retailer, or shopping mall operator, it is essential to keep up to date on industry trends. This is where the resources listed above step into the picture. While most resources feature news and research articles, some also include new-age marketing strategies.
What additional trusted shopping center industry resources wold you add to this list? Share your views in the comments section below.