An organization can face a variety of crisis. A single piece of paper can catch fire and bring an entire factory down. Even a single negative review on your Facebook page can drive potential customers away. Safeguarding your employees and brand reputation in such a scenario can be a herculean task. That is why it is crucial to prepare a solid crisis communication strategy in advance.
Simply put, crisis communication aims to reduce the damage caused during any emergency situation. These situations could be life-threatening or even harmful to a brand. Developing a crisis communication strategy requires adequate planning and foresight. Many leading brands have handled unforeseen circumstances using effective crisis communication. On the other hand, several organizations have also mishandled such situations, leading to further controversies.
Let us take a look at a few types of crisis communication scenarios you should be prepared for:
1. Severe Weather Crisis
A natural crisis is one over which you have no control at all. You are at nature's mercy when there are massive earthquakes or hurricanes. Severe weather can also make it difficult to continue your day-to-day operations in the office. This is especially true for those companies which are located in areas that are prone to such natural disasters.
You need to be well-equipped to protect your employees and business operations in case such a crisis hits your area. A great way of doing this can be through a mass notification system. Such a system can be used to send out notifications to your employees instantly to keep them away from harm's way.
2. Fire Crisis
Fire is an emergency situation which can wipe out infrastructure and life within minutes. About $329 billion was lost due to fires in 2011 in the US alone. This makes it necessary to be prepared to deal with fires in any condition. It is even more important in case of large complexes where loads of people work or visit.
Having an emergency notification system can help you spread the message to people in case of fires. The speed with which messages are communicated can help in saving lives. This method was employed by Rivercenter Shopping Center when a grease fire ignited there. They used multi-channel mass notification software to inform more than 350 people about the fire and saved them from the fire. In less than half an hour, every person in Rivercenter was in the loop with the latest updates about the fire.
3. PR Crisis
It takes a lot of time and effort to create a good reputation for your brand. However, all those efforts can go down the drain if it's not maintained well. You need to ensure that your brand's reputation is maintained at all times. That's why you have to handle your PR extremely well.
However, there can, of course, be times when a PR crisis can strike. This is especially true in today's online world where a single tweet can create a dynamo effect and lead to a huge backlash for your brand. In such a case, you need to be prepared to handle the situation. To ensure that all your employees are on the same page immediately, it's a great idea to have mass notification software in place.
For example, when JC Penney launched its new teapot in 2013, they didn't expect it to land them in the middle of a controversy. However, trouble started brewing when a Reddit user pointed out that the new product resembled Adolf Hitler. Other social media users soon took notice, and even the Telegraph featured the story.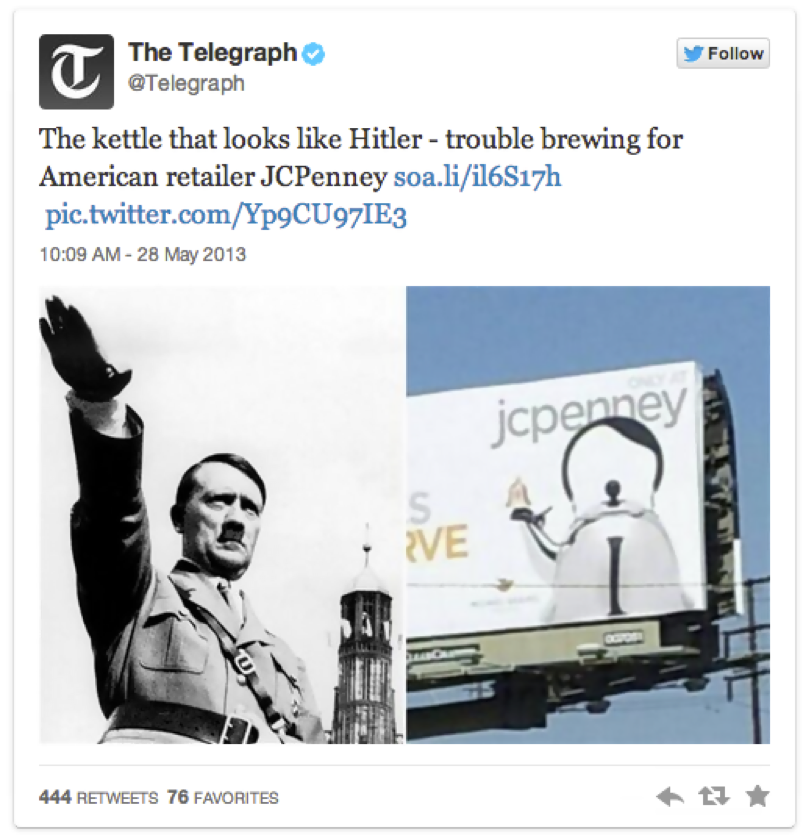 Image via Mojo Media Labs
The American retailer didn't ignore this crisis as an isolated event or a silly remark on social media. They immediately took charge of the situation and responded to all the tweets in a light-hearted manner. In the absence of any response from the brand, this situation would have escalated into a major PR crisis.
4. Personnel Crisis
This sort of crisis occurs when some employee gets involved in some unethical misconduct. Such a situation can wreak havoc for the company. It becomes even more pronounced in extreme cases such as workplace shooting, which recently took place in Aurora. In such a case, your priority should be to save your employees and keep them away from harm.
You need to react immediately to the situation and identify its scope to figure out what course of action needs to be taken. In case of serious situations, your goal should be to communicate important information to your employees as quickly as possible to protect them from harm. Emergency notification software can come in handy in such a situation.
5. Healthcare Emergencies
With a connected globe, epidemics can strike at any instant. Your employees can fall sick and may need instant medical attention due to exposure from a colleague who came in not feeling well. You need to be prepared to handle such situations with finesse.
As the size of your staff and organization increases, you need a special crisis communication plan ready to act as quickly as possible. Emergency notification software can be used in such situations to send out instant notifications to your doctors and staff.
This makes it necessary to reach every single employee as quickly as possible. While emergency notification software is good, one which can be integrated into Outlook or can deliver multi-channel notifications is even better. This helps you easily send out the message and ensures that everyone receives and not only those who check SMS.
6. Culture Crisis
With this crisis, the situation is such that the organization, as a whole, has wronged its customers. When such a case occurs, it tends to have serious backlash and can completely alienate customers from the brand.
Due to this reason, brands need to act swiftly to clean up their image. A great way of doing this is by improving the culture of the organization that aims to deliver quality services to customers. Such a crisis took Starbucks by storm last year. In May 2018, Starbucks faced severe backlash on accounts of racial bias. The incident involved two black men getting arrested from one of Starbucks's Philadelphia outlets. They were waiting for a third friend and didn't want to place an order before he arrived. When they refused to leave despite repeated requests, the manager called the police.
The incident went viral and led to massive outrage against the coffee chain. However, Starbucks recognized the problem and took full responsibility for the situation. Howard Schulz, the chairman of Starbucks, issued a quick apology and announced the brand will conduct racial bias training for its 175,000 employees. The biggest lesson one can learn from this example is taking swift ownership of the crisis and offering a solution to the problem.
Conclusion
Effective crisis communication isn't about waiting for a major fiasco or emergency to emerge. Instead, you should anticipate every unforeseen situation and prepare accordingly for it. With the rise of social media, this has become all the more important.
Even the best brands can falter and make mistakes. However, a swift and reassuring response can go a long way in restoring your brand reputation. All of it requires is a little bit of foresight and proactiveness from your side. You can also use emergency notification software to alert your employees in case of a crisis.
Want to know how prepared your employees are for crisis communication? Take this employee crisis communication preparedness test!
What are some other crisis communication scenarios you know of? Let us know in the comments.