Facebook is as much of a social networking site as it is an advertising tool. Marketers and brands have leveraged Facebook pages and targeted ads to connect with their target audience. But ever since the Cambridge Analytica scandal came into light in early 2018, Facebook users have started doubting the platform's credibility. In addition to the concerns over users' privacy, the platform has been struggling to curb the spread of fake news.
Facebook has introduced many algorithm changes in order to address the issues of data privacy and fake news. However, the biggest set of changes were announced at F8, Facebook's annual conference, held in end-April 2019. Although the event was disguised as a developers' conference, it is just as significant for brands and marketers.
Privacy-Focused Social Network
In his opening remark, Facebook founder and CEO, Mark Zuckerberg proudly proclaimed that the "future is private." He emphasized on the use of encryption and data security to safeguard the privacy of Facebook users. The event also unveiled a complete Facebook redesign and new Instagram features. In addition, it shed light on Facebook's long-term goal of becoming a privacy-focused communications platform.
The announcements made by Zuckerberg and his team will require marketers to overhaul their strategies. It is evident that Facebook will evolve and marketers are getting a heads up to keep up with its changing algorithms. Before we discuss more about the F8 announcements, let us take a look at the other recent changes introduced by Facebook.
Existing Challenges for Facebook Marketers
If you are the owner or manager of a Facebook page, you may have been struggling with organic reach for the last few years. Facebook has largely limited the organic reach of any content that has been shared on a page. It is an attempt to make the platform more focused on friends and family interactions.
As a marketer, it implies that you will have to invest heavily in Facebook Ads to reach your audience. This, in turn, means you need to crank up your social media marketing budget. However, paid advertising on Facebook is also not as easy as it used to be.
Facebook has restricted the use of exclusionary targeting, to begin with. This means you can no longer exclude a certain section of your audience based on parameters such as religion, ethnicity, race, etc. In August 2018, the platform also announced the removal of more than 5000 targeting options. This, again, means advertisers will have limited options for targeting the right audience.
Just as brands and marketers were grappling with these changes, Facebook rolled out the F8 announcements. Let us now understand how they are likely to affect marketers.
Increased Emphasis on Groups
One of the most important takeaways from F8 is a complete redesign of the Facebook mobile app as well as the desktop experience. The new desktop interface is largely based on the existing mobile app. It will contain larger buttons and a navigation bar at the top for quick access. Facebook stories will be placed above the News Feed section to help users connect with their friends and family.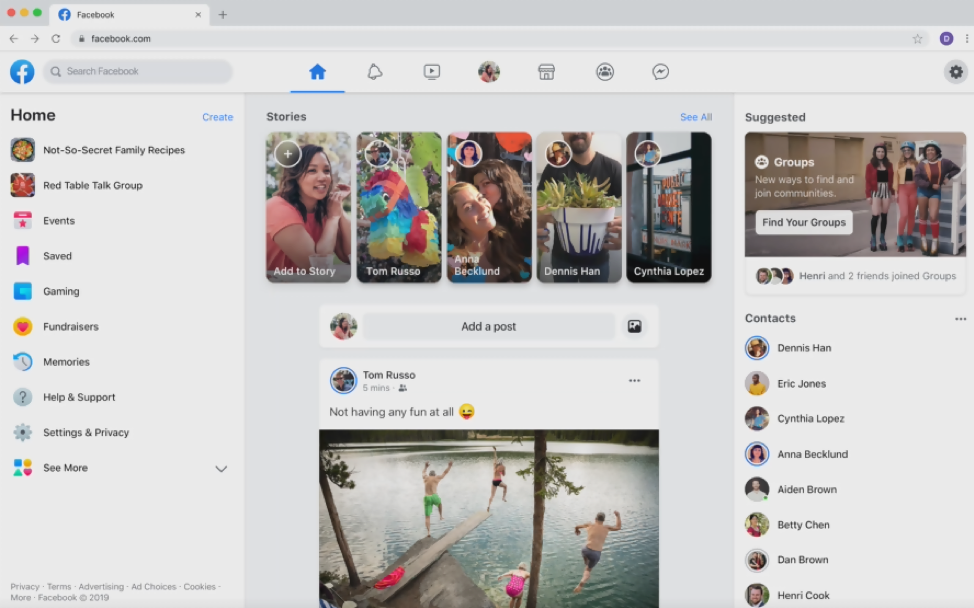 Image via
Social Media Today
The most noticeable feature is a groups button in the top bar and an omnipresent sidebar on the left. The group discovery page will make it easier for users to access communities of like-minded individuals. They can also view and manage the content of groups they are already a part of. In addition, they will get recommendations on groups they can join based on their preferences and friends circle.
Additionally, the News Feed has also been modified to bring groups to the forefront. This only stresses further that Facebook is prioritizing communities to create a better experience for its users. The News Feed will also feature more content from a user's friends, family, and groups. It can also be seen as Facebook's attempt to curb fake news by highlighting credible and trustworthy information.
Takeaway for Marketers
This clearly indicates that marketers have to shift their strategies to focus more on Facebook groups than pages. The first step is to create a branded Facebook group and connect it with your Facebook page. The idea is to build a community around your brand by inviting potential audience members to join your branded group.
As of now, branded Facebook groups enjoy a similar reach as the regular ones. Therefore, instead of posting solely on your Facebook page, you can share content in your branded group. Marketers will have to create more group-centric content that helps inculcate a sense of community.
The announcement also puts emphasis on the fact that marketers will have to embrace Facebook Ads in order to maximize reach. While paid advertising is still not applicable to Facebook groups, it is only a matter of time before this feature is introduced.
New Instagram Features
Another key announcement revealed that Instagram users will soon be able to sell products on the platform. The feature will be launched for a beta test run at first. Celebrities such as Kylie Jenner and brands like Vogue will be given access to the selling functionality.
If all goes well, Instagram users will soon be able to tag a particular product in their posts. Other users can tap and view the tagged product without ever exiting the platform. While no eligibility criteria have been specified, it is likely that creators have to undergo an application or verification process before they start selling. In addition, Instagram might charge a certain percentage as commission for every successful transaction.
In addition, the app is also testing hidden like counts in Canada. If and when this feature is introduced globally, it will make Instagram a healthier content-sharing platform. Users can focus on uploading high-quality posts instead of succumbing to trends for the sake of likes.
Takeaway for Marketers
Instagram's selling feature, when rolled out globally, will revolutionize influencer marketing. It will become easier for Instagram influencers to promote branded products by tagging them instead of adding a link in the bio. The likelihood of conversion will increase when users aren't redirected to an external browser. In addition, brands will be better equipped to monitor their influencer marketing campaigns and measure the ROI.
The hidden likes feature will also increase the credibility of Instagram posts and the platform, at large. It will also eliminate the use of spambots for fake engagement. Therefore, brands and influencers relying on such practices will bear the brunt. However, this will enable genuine marketers to track real engagement levels and analyze the performance of their campaigns.
Conclusion
In the aftermath of the Cambridge Analytica scandal, Facebook has taken several measures to address the growing concerns over privacy. The latest F8 announcements are also aligned with the platform's quest to restore its credibility. The emphasis on Facebook groups makes it imperative for marketers to create branded groups. It is crucial to connect with your target audience and build a community around your brand.
In addition, Instagram is all set for a new avatar that will allow in-app transactions. It will take brands closer to more transparent influencer marketing campaigns. The introduction of hidden likes will also reduce the prevalence of spambots. This is likely to restore the audience's trust and make Instagram the premium content-sharing platform it was intended to be.
Are there any other Facebook announcements that marketers should be worried about? Share your views in the comments section below.