Shopping malls in the US have been in a mode of tailspin ever since the ecommerce industry started booming. People prefer to sit in the comfort of their homes and shop for their favorite products at even more affordable prices. This has led to widespread vacancies in the shopping malls in the country. Over 9.1% of the mall spaces were vacant in 2018's third quarter and now, only 1,211 malls remain in the US.
Additionally, more closings are predicted for 2020, and this is ringing alarm bells everywhere. However, there's still hope. Gen Z (aged 13-22) is fairly different from millennials in many ways. And one major difference is that they prefer in-store shopping over ecommerce.
In fact, a study by the International Council of Shopping Centers found that 95% of Gen Z shoppers visited physical stores in a three-month period of 2018. This was in stark contrast to just 75% of millennials and 58% of Gen X shoppers. Additionally, 76% of them believe that physical stores provide better shopping experiences.
Let's try to understand why they are returning to the shopping malls.
1. Immersive Shopping Experiences
The oldest Gen Z-ers are about 22 years old. These young adults are just starting to earn and spend their money. Many of them are still college students who head to the shopping malls with their friends or family when they come home for holidays. For them, the mall isn't all about shopping; it's about an immersive shopping experience.
They consider malls as places where they can hang out with their friends or family. Additionally, they head to the malls to grab a bite to eat. This makes it important for malls to reinvent themselves and add loads of food outlets.
These young shoppers are still discovering shopping and are forming an opinion of their own about brands. As a result, they are trying out different things and socializing with others while shopping. Malls offer such immersive shopping experiences, and that's an encouraging sign for them.
2. Tech + Brick-and-Mortar
What sets Gen Z apart from all the other generations is their exposure to technology. This generation has been brought up in the era of smartphones, and they spend a lot of time on them as well. They also realize this dependance on smartphones; nearly 60% of them self-diagnose their overuse.
While they use technology, they also prefer brick-and-mortar stores for shopping. Thus, they use technology even when they are purchasing from physical stores. Hence, it's essential for you to embrace this fact to attract Gen Z even further to your shopping mall.
Forever 21 is a great example of a brand that's managed to achieve this. They reward customers who use smartphones in their stores with a 21% discount. All they need to do is click a picture of them in one of their outfits and post a photo on Instagram with #F21PROMO. This has been an extremely successful campaign for them, and this hashtag has over 6,900 posts now.
If you've got a Forever 21 outlet in your shopping mall, or have a tenant who has such offers, you should consider marketing these offers as well. Note how Eastwood Towne Center has promoted Forever 21 below.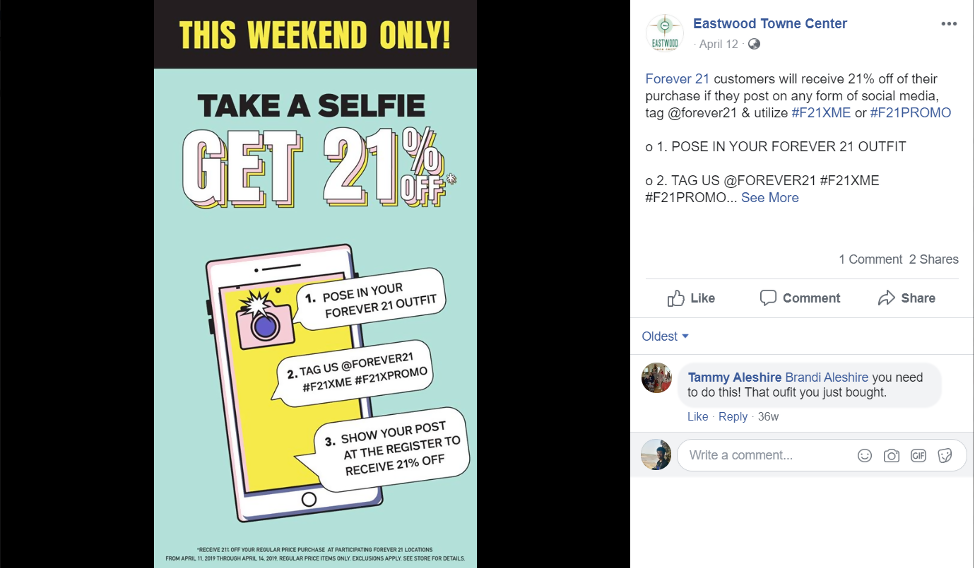 Image via Facebook
3. Customized Experiences
Gen Z shoppers wish to get personalized experiences and products. Nearly 50% of them want tailor-made products that fit their tastes and interests. While ecommerce stores display customized products, it's difficult for them to personalize products and experiences specifically. This is where malls and retail outlets can benefit from Gen Z.
Major retailers like American Eagle Outfitters Inc., Levi Strauss & Co., and Tiffany & Co. have jumped onto the personalization bandwagon. Shoppers can get embossing and painting done at the stores when they purchase jeans from American Eagle. Similarly, Levi Strauss put up tailors in their stores where customers could add their monogram. Lastly, Tiffany & Co. came up with the "Make It My Tiffany" program that allowed shoppers to personalize their jewelry.
4. Fitness & Experiences
In 2018, Gen Z accounted for nearly 38% of all gym sign-ups globally. Additionally, 87% of them said that they exercise two or more times every week. With stores shutting down in malls across the nation, several major malls in the country have started leasing out spaces to gyms and fitness centers. Gen Z, being one of the prominent users of gyms, thus head to shopping malls.
Additionally, about 34% of Gen Z-ers surveyed by Business Insider said that they visited shopping malls once or more per month. Additionally, about 12% of them spend most of their time with friends in the mall. However, the most striking statistic is that 33% of them head to the shopping mall to hang out and not to shop.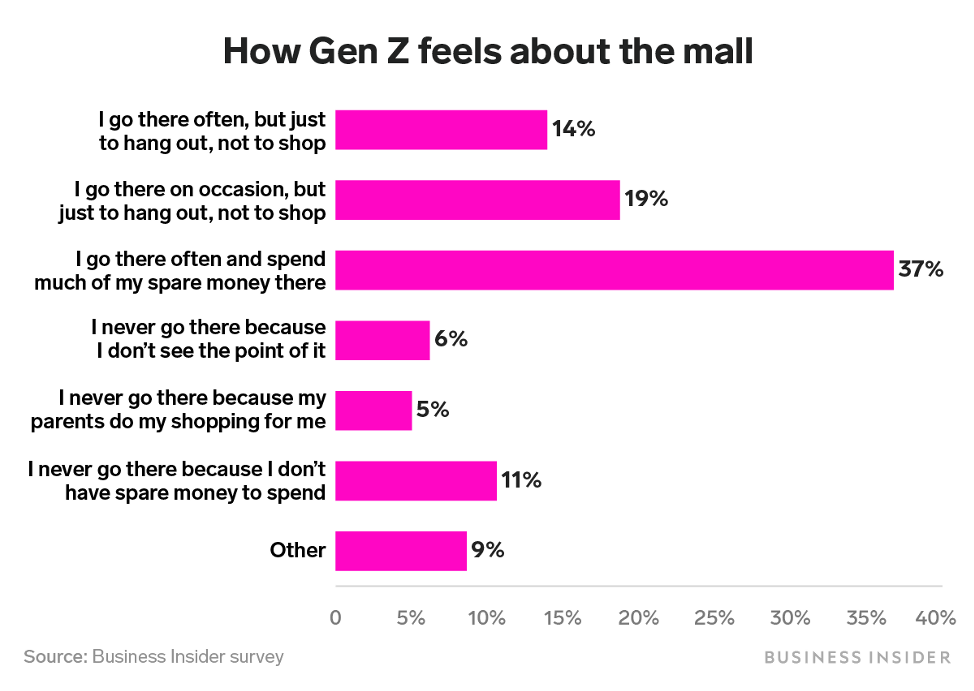 Image via Business Insider
To get these Gen Z-ers to spend in your shopping mall, you should consider coming up with different experiences that they can try with their friends. Consider adding restaurants, game zones, interactive events, cinemas, and more. These can attract the young audience while they're hanging out at your shopping mall.
Final Thoughts
Shopping malls have been facing a real estate nightmare for the past few years with changing preferences of millennials. However, Gen Z prefers to shop at physical locations, and this can improve things for shopping malls. They look for immersive shopping experiences and prefer places where they can get utilize tech but also get the experience of shopping in brick-and-mortar stores.
They also crave personalized experiences, so ensure that you offer those to them. Gen Z is also fitness-conscious and comes to shopping malls to hang out with friends. To make them spend, you can provide some attractive entertainment options and experiences.
What are the other reasons for Gen Z returning to the mall? Let me know in the comments.