Health care practitioners and social service workers work hard to give people a better life. Yet, their safety is often jeopardized due to dangerous working conditions. Nurses, physicians, emergency responders, and social service workers directly deal with mentally unstable individuals. As a result, they often become victims of workplace violence.
In a recent survey by the American College of Emergency Physicians (ACEP), 50% of the respondents claimed to have been physically assaulted at work. This emphasizes the need for a law to safeguard employees in health care facilities and social service workers. The Workplace Violence Prevention for Health Care and Social Service Workers Act aims to do just that. If legislated, this act will ensure workplace safety for professionals working in these industries.
Officially known as H.R. 1309, the bill was introduced to Congress in November 2018. It has already stirred many conversations among lawmakers, politicians, and health care practitioners. However, the common public has yet to gain a firm grasp on what the bill entails. Let us take a closer look and understand what H.R. 1309 is all about.
H.R. 1309: A Closer Look
What distinguishes H.R. 1309 from other workplace violence legislation is that it gives tremendous control to OSHA (Occupational Safety and Health Administration). If passed into law, it will allow OSHA to enforce workplace safety standards in the health care and social service sectors. It will give OSHA the authority to address workplace violence in these organizations directly. Additionally, it will offer protection to public-sector employees in states that are not under the direct purview of OSHA.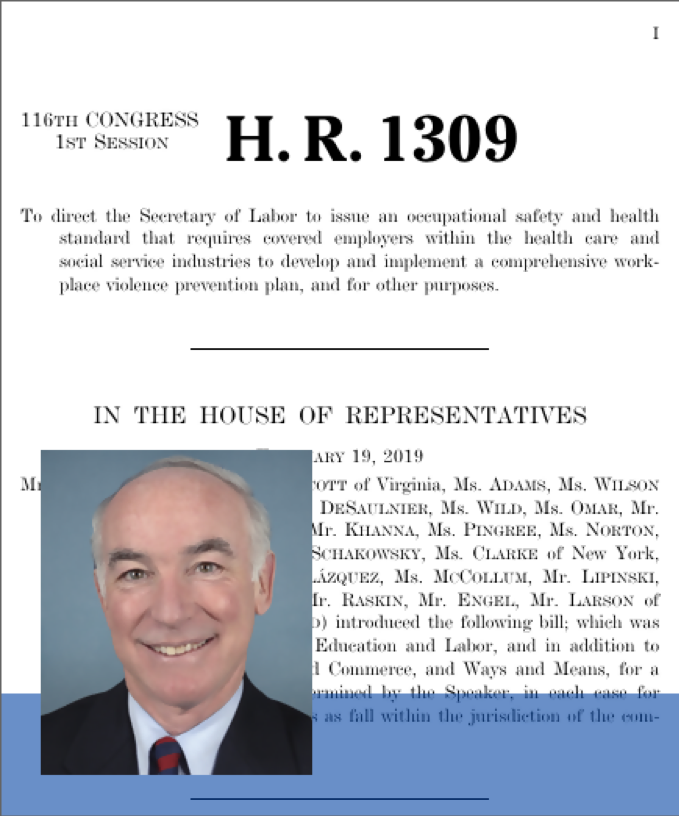 Image via GovTrack
What this means is that employers in these sectors will be forced to develop an actionable plan to prevent workplace violence. While OSHA has already published a set of guidelines in this regard, it doesn't have the power to enforce them yet. Despite OSHA's guidelines, health care facilities and social service organizations are still not liable as far as workplace violence is concerned. The enactment of H.R. 1309 will cement this gap.
When passed into law, H.R. 1309 will make it mandatory for covered employers to implement a workplace violence prevention plan. It will require such employers to identify risks, spread awareness, and train their employees. OSHA will have to develop an interim standard within a year after the enactment of the bill. The final OSHA standard will have to be created and implemented within a period of 42 months.
The Progress So Far
Congressman Joe Courtney, along with 21 co-sponsors, introduced H.R. 1309 to Congress on November 16, 2018. Since then, the bill has attracted many more co-sponsors, with the total number rising to 221 even garnering support from Republican lawmakers.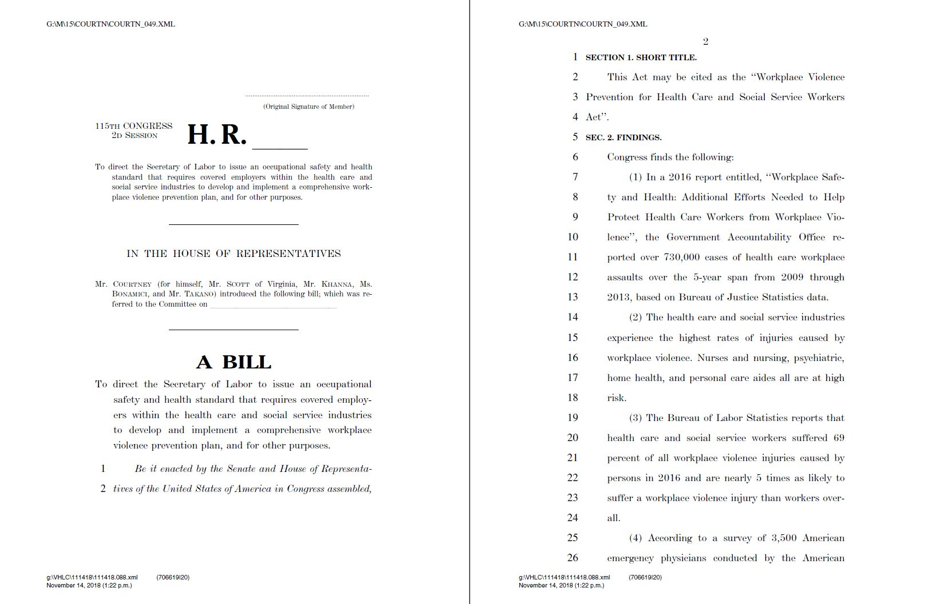 Image via Congressman Joe Courtney
H.R. 1309 was the subject of a hearing before the Workforce Protections Subcommittee of the House Education and Labour Committee. Held on February 27, 2019, the hearing included testimonies from various nurses, caregivers, and social workers. The biggest milestone in the bill's journey has been its advancement to the Full House. The decision was taken on June 11, 2019, when the legislation was voted out of the House Committee on Education and Labor.
The Impact on Employers
Under H.R. 1309, employers will have to thoroughly investigate incidents of workplace violence that have happened in the last five years. They will have to look into the perpetrators' profile and identify the factors that might have led to the incident. Additionally, they will be required to perform an extensive risk analysis.
The next step will be to maintain a detailed report of every incident. Apart from perpetrators, the report should also mention when and where the incident occurred and who the victims were. It should also outline the nature and extent of injuries sustained by the victims and the measures taken for their rehabilitation. The idea is to identify potential risks and take suitable measures to prevent such incidents from happening again.
Lack of awareness is one of the primary reasons behind the prevalence of workplace violence in any organization. H.R. 1309 makes it mandatory for organizations to educate their employees about what constitutes workplace violence. Additionally, employees will have to be provided with adequate practical training to tackle hostile situations. It is equally important to create proper channels of communication between employees and their employers.
Employers should also ensure that employees who become victims of workplace violence are properly rehabilitated. This involves providing them with the necessary treatment for physical injury and mental trauma. Moreover, such employees shouldn't be subjected to any retaliation even if they seek help from law enforcement agencies or government bodies. The key is to create a nurturing environment that encourages employees to report incidents of workplace violence.
A Ray of Renewed Hope
The introduction of H.R. 1309 has received widespread acclaim from professionals in the health care and social service sectors. Various organizations, such as AFL-CIO, have come out in support of the legislation. Many of them have even started online petitions for the immediate enactment of the bill.
The National Nurses United has also supported the advancement of H.R. 1309 to the full House. With more than 150,000 members, it is America's largest union of registered nurses this is a powerful form of endorsement. The association has recommended that the legislation should be immediately passed into law.
Criticism of H.R. 1309
Like any other revolutionary legislation, H.R. 1309 has also garnered a few dissenters. Their main criticism is that the bill doesn't introduce any new policies or measures to curtail workplace violence. Instead, it duplicates existing laws and will likely disrupt OSHA's normal working procedure.
Conclusion
H.R. 1309 has given health care professionals, and social workers hope for safer workplaces. It will provide OSHA direct control to address workplace violence in health care facilities and social service organizations. The presence of a federal standard will make it mandatory for employers to create and implement practical workplace violence prevention policies.
The bill has garnered support from physicians, nurses, social workers, and other caregivers. Various associations and unions have also come out in its support. They are waiting with eager anticipation for the enactment of H.R. 1309.
Do you think the enactment of H.R. 1309 will create a safer work environment for health care professionals and social service workers? Share your views in the comments section below.