Marketing is a field that's continuously evolving, and its pace has only quickened in the past decade. With the soaring popularity of the internet, digital marketing has become the go-to method of marketing. There are over 3.8 billion internet users in the world, which is about half the world's population. You need to use digital marketing to reach these people.
However, it's challenging to know-it-all or keeping up with the latest changes. For that, you need to follow the best marketing blogs that come up with highly-detailed content about the latest happenings in the industry. Be it new technology such as augmented reality, AI and even proximity marketing or evergreen marketing techniques such as Search Engine Optimization (SEO); these blogs cover it all. Here are the best marketing blogs out there that you must follow:
1. Moz
Moz has become a name that's almost synonymous with SEO. It's become a leading resource for anyone who wishes to learn about SEO and understand it in detail. A lot of content was written initially by its co-founder Rand Fishkin himself.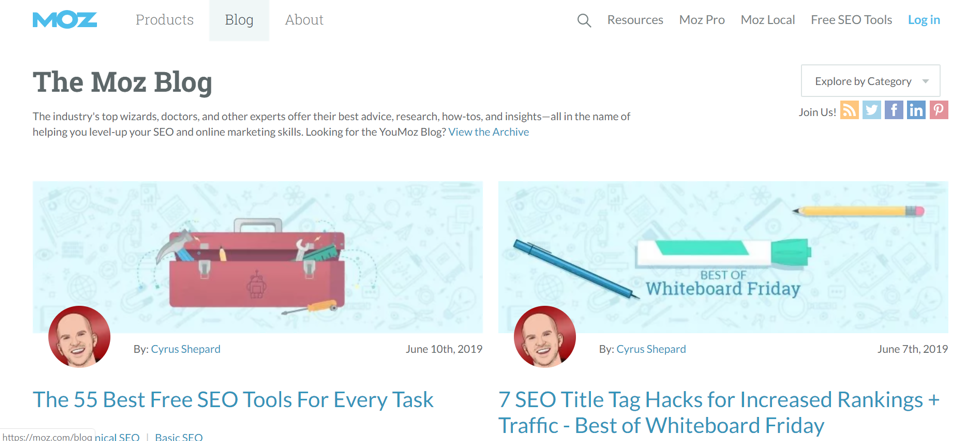 Image via Moz
Today, you can find a wide variety of learning resources on the website. These include the Beginner's Guide to SEO and even the regular Whiteboard Friday videos which feature Rand Fishkin himself.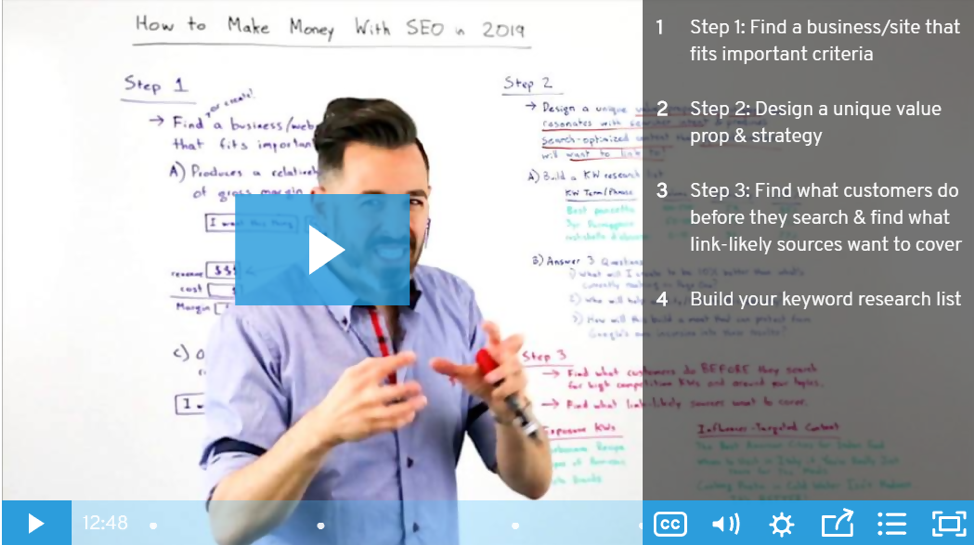 Image via Moz
If there's anything that you need to learn about SEO, Moz is the blog you should visit. Despite being more than a decade old, it still retains its charm and is one of the best in the business.
2. HubSpot Blog
HubSpot is one of the most popular marketing blogs out there for those who wish to learn inbound and digital marketing. In fact, HubSpot is the place where the term "inbound" originated. It's one place where you can find thousands of downloadable resources, free marketing tools, and more.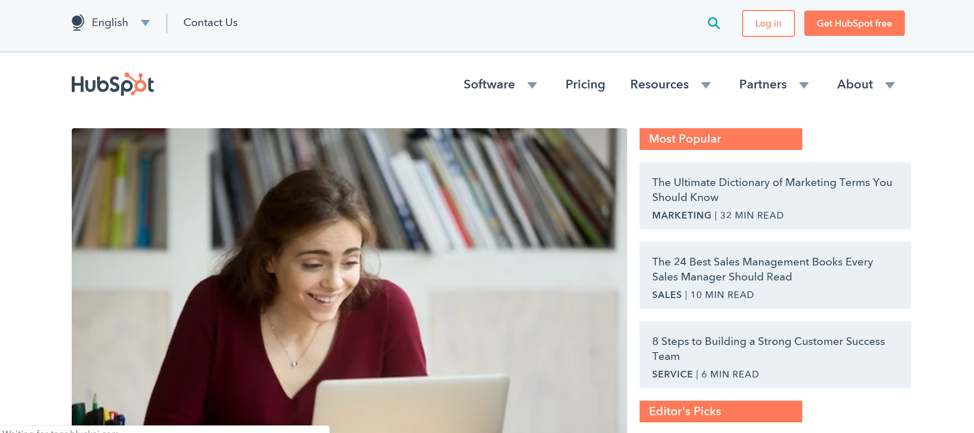 Image via HubSpot
They've even got a vast number of free certificate courses for those who wish to learn anything and everything about marketing.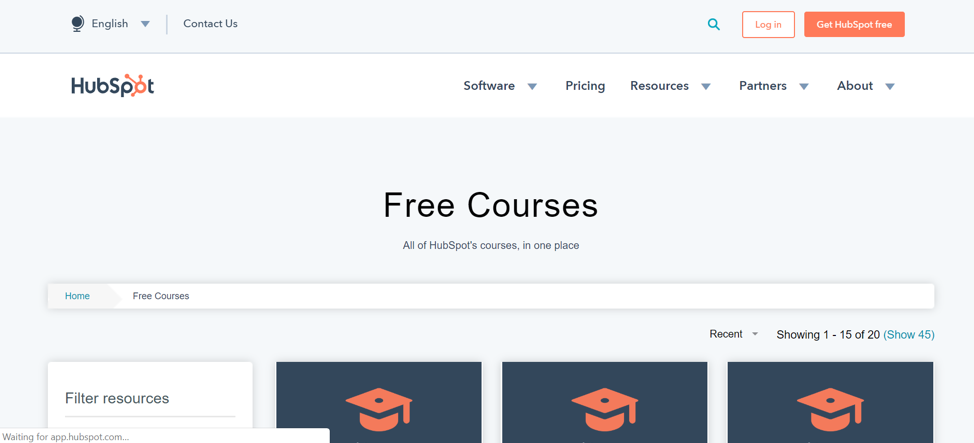 Image via HubSpot
Highly actionable and incredibly detailed blog posts on HubSpot have helped thousands of marketers understand everything that there is to know about marketing. This is perhaps the reason why it pulls in nearly 4.8 million visitors every month!
3. Content Marketing Institute (CMI)
For all those content marketers who wish to learn more about their industry, Content Marketing Institute is the blog to visit. It's got one of the largest contributor networks in the industry, and due to this reason, you can find almost everything there is to know about content marketing on it.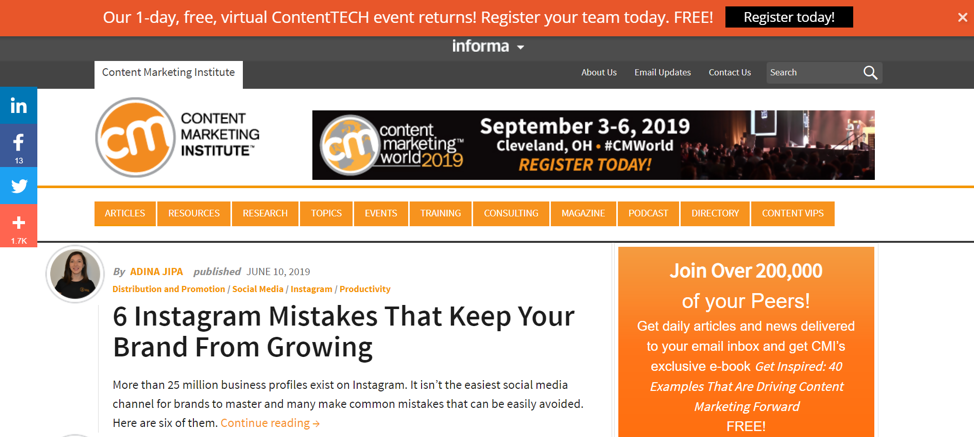 Image via Content Marketing Institute
It's got a mix of evergreen content, copywriting techniques, and even a whole lot of updates about the industry's latest happenings. CMI also conducts lots of research related to the industry every year and comes out with magazines as well. They also host multiple events throughout the year where you can find some of the best marketers in the world under one roof.
Image via Content Marketing Institute
4. Neil Patel
Known formerly as the Kissmetrics Blog, this blog by Neil Patel, one of the biggest marketing influencers in the world, has got everything that there is to know about digital marketing. The best part about this blog is that it's got a bit of everything and that too in detail! From content marketing to mobile marketing, you can find it all here.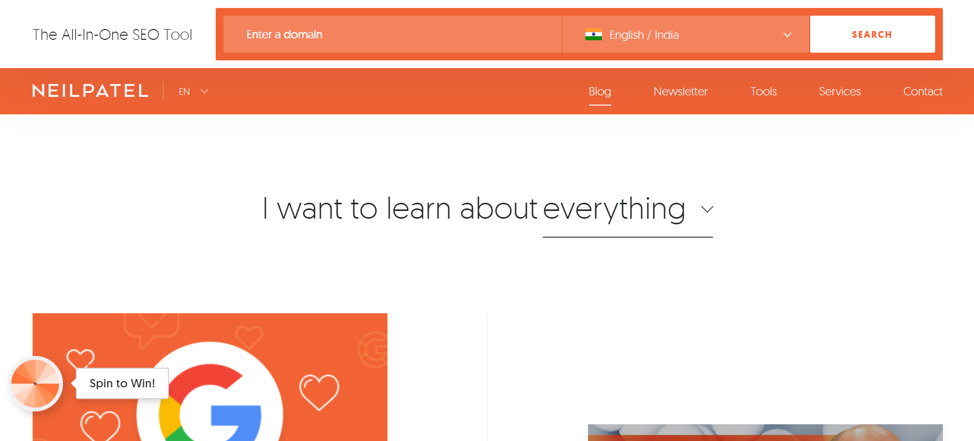 Image via Neil Patel
The blog also has many explainer videos which feature Neil Patel himself. Additionally, the blog has loads of case studies and exciting statistics related to marketing. It's got a host of tools on offer, including competitor research tools. The latest addition to the blog is the Ubersuggest SEO tool.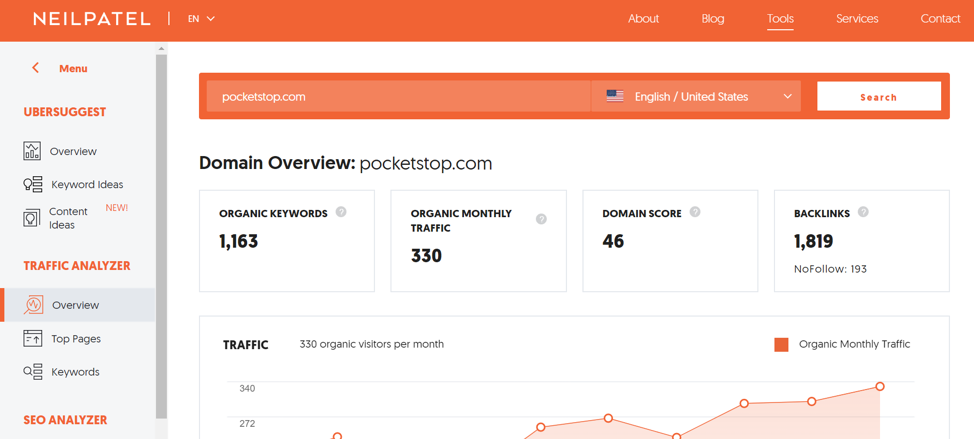 Image via Neil Patel
Neil even explains every purchase that he makes in detail and teaches through that as well. This is one place where you can learn everything there is to know about marketing.
5. Ahrefs
Ahrefs is a company that has loads of SEO tools on offer. These include an SEO toolbar, competitor research tools, and even keyword research tools. While these tools are incredibly useful, their blog does this job equally well.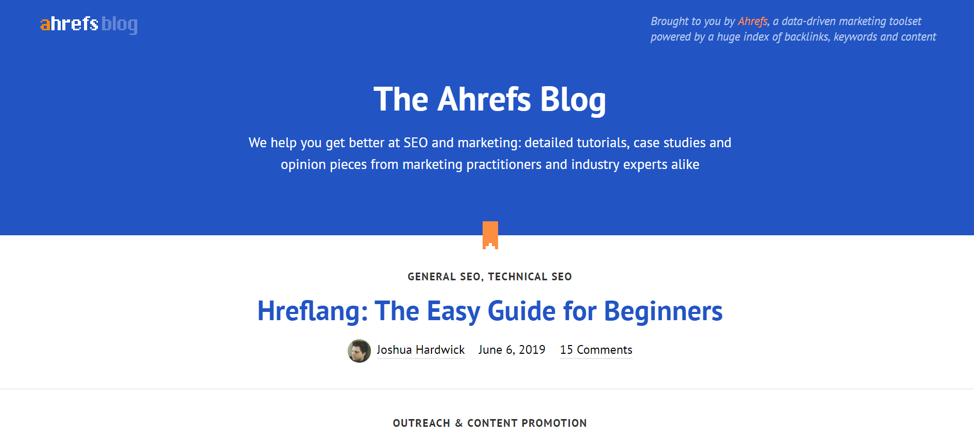 Image via Ahrefs
It gets over 220k visits per month organically, and this says plenty about the valuable resource that it's become. While they publish only about 1-2 posts every week, each of those posts is profoundly insightful and actionable.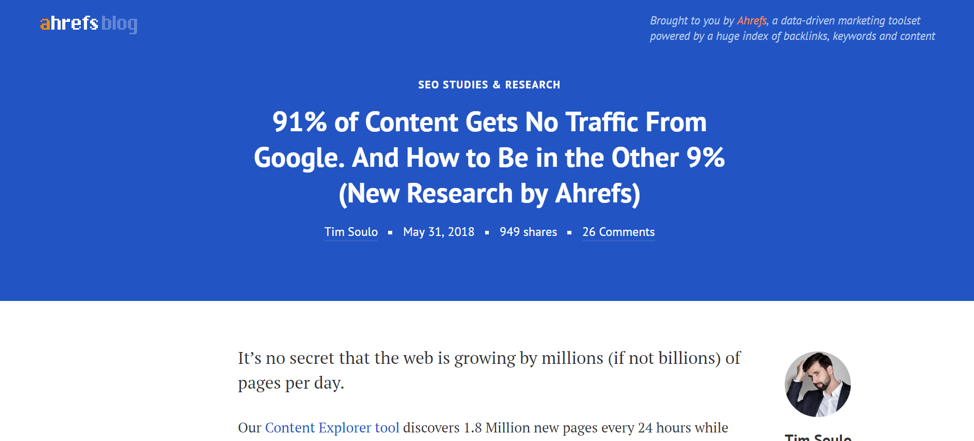 Image via Ahrefs
Many of their blog posts are in-depth studies which they've done through the big data that they've collected over the years. These studies can help you understand the way things function in the digital landscape too. If it's an educational marketing blog that you're looking for, Ahrefs is the answer to your questions.
6. Backlinko
Backlinko is the blog of Brian Dean, and it fetches about 150k organic search visits every month. According to Inc. Magazine, Brian is one of the most prominent figures in the SEO industry. Other publications such as the Entrepreneur Magazine have also lauded his achievements in the field of marketing.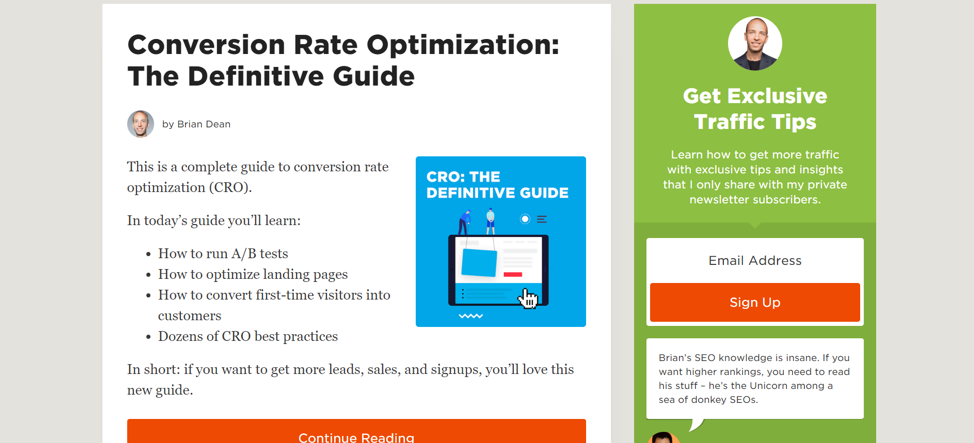 Image via Backlinko
While the frequency of publishing posts on Backlinko is pretty less, you can expect every article on this blog to be an absolute gem. All the blog posts provide actionable tips and techniques related to SEO, and you can expect each one to be highly-detailed as well. One of its most popular blogs is the Skyscraper Technique.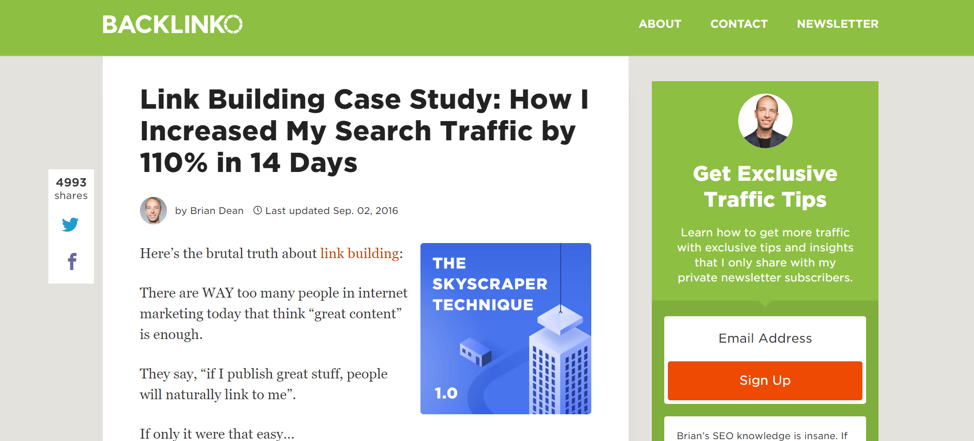 Image via Backlinko
7. Orbit Media Studios
Orbit Media Studios' blog can help you expand your digital footprint right from scratch. Andy Crestodina and Amanda Gant lead it and the blog focuses on web analytics, user experience, and design. They cover those aspects of content marketing that don't necessarily require words and content itself.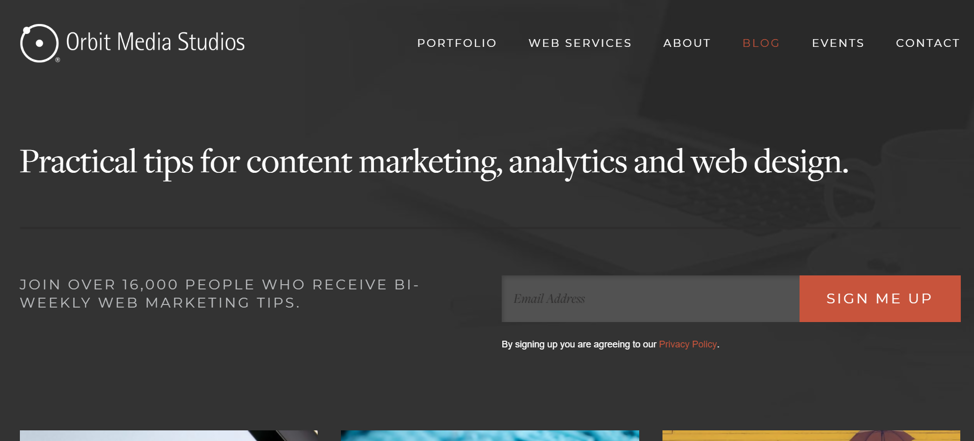 Image via Orbit Media Studios
You can also find some solid research on the blog, the main one being the annual blogger survey. This is an extremely valuable resource for content marketers and creators alike. It also shows you how original research can help you establish authority and amass a huge audience too.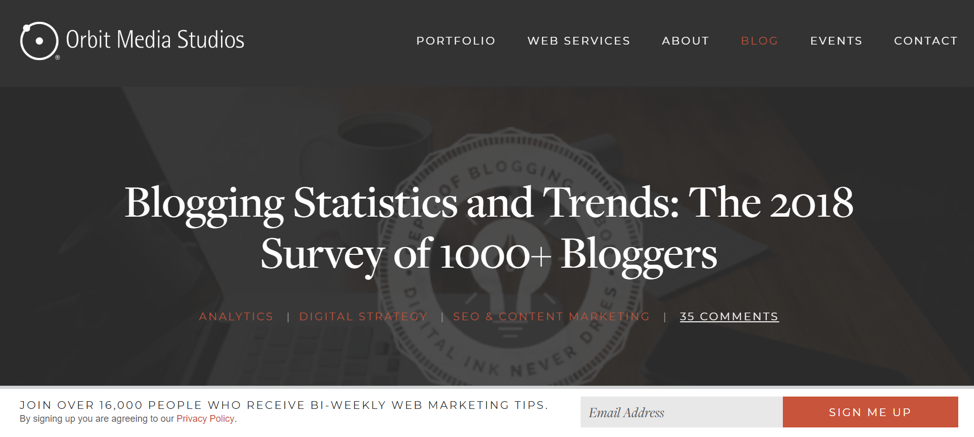 Image via Orbit Media Studios
Final Thoughts
To remain at the top of your marketing game, you need to stay up-to-date with the latest happenings in the industry. Even if you're new to the field, you need some reliable resources from where you can learn the best practices of marketing. By following these popular blogs, you can get an edge above the others and learn unique methods to rise above your competition.
Which are your favorite marketing blogs? Let us know in the comments.