The success of your shopping mall entirely depends on how well your tenants perform. For this, you need to maximize foot traffic to your mall. However, high footfall isn't enough. You need to lure people into the shops of your tenants and get them to purchase from them. This requires some foresight and planning for your indoor mall advertising strategy.
This means with coming up with innovative ways of attracting customers to your malls and drive them to specific tenants. Remember, the higher the foot traffic, higher the occupancy rate and the better will be the revenue of your shopping mall. Here are some unique ways of indoor mall advertising that you can implement to grow your revenues.
1. Proximity Marketing
When shoppers connect to your Wi-Fi, you can use proximity marketing to your advantage. You can send out alerts and offers to them through text messages to lure them to purchase from your tenants.
The best part about this form of marketing is that you can partner with your tenants to know their offers right from the beginning. You can then send these offers to the shoppers at the right moments to get them to shop.
For this, you need to have a proximity marketing software solution. Through it, you can advertise without the need to invest in a beacon technology or an app.
You can also get creative with the type of offers that you send out. Come up with unique time-bound flash deals that you can send out to your shoppers. Through them, you can leverage the fear of missing out (FOMO) and get them to purchase from your tenants.
2. Posters
One of the simplest modes of indoor mall advertising is through posters. You can put them up on easels, hang them, or even put them up on the shop's glass. Large banners can be instant attention catchers and crowd pullers.
When designing these posters keep in mind that words such as "Sale" and "Promotion" are visible clearly. If there's a discount, ensure that the discount percentage should be as large as possible. These words can catch the attention of your shoppers and lure them to the stores.
You can even put up banners on your escalators so that they'll be instantly visible to your shoppers.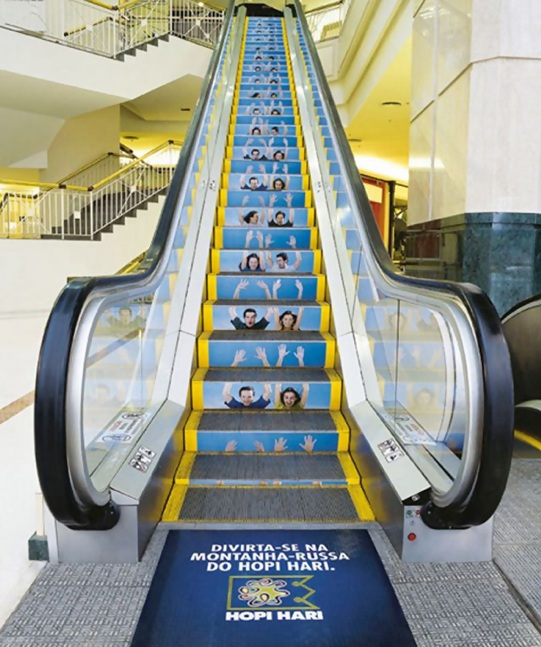 Image via Creative Criminals
3. Elevator Advertising
If you've got a multi-storied shopping mall, you'll most likely have elevators in it. Loads of shoppers tend to use elevators to reach the upper floors in the shopping mall. Additionally, people usually haven't got much to do for the few seconds that they're in the lift. This makes them great places for advertising, as you can catch their attention.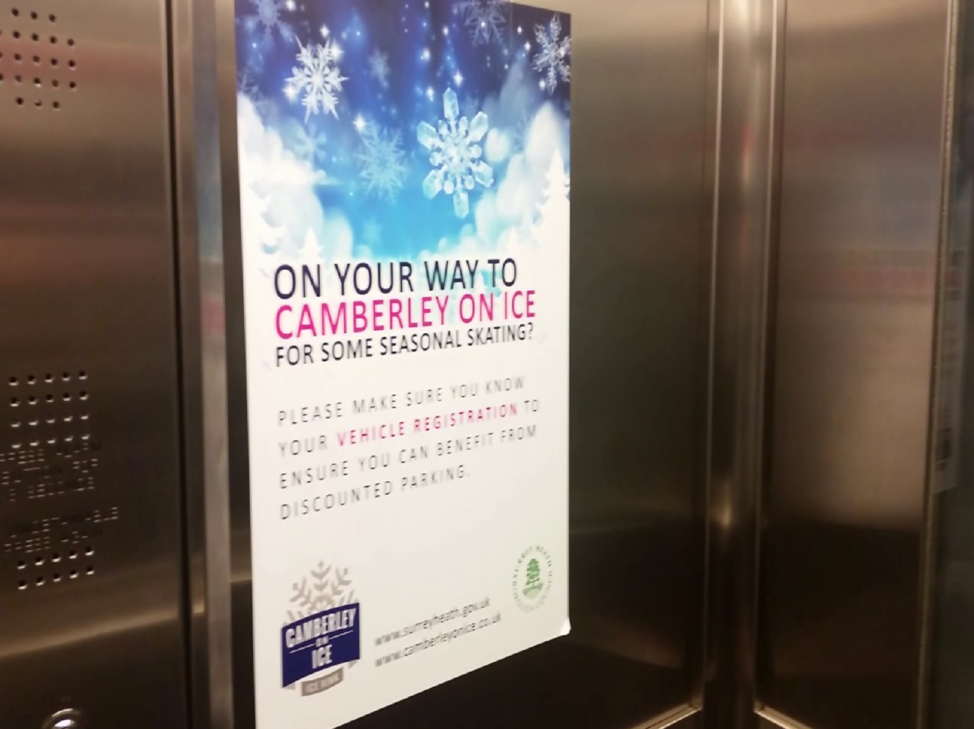 Image via Creative Media Corporation
All you need to do is put up posters of all the promotions that you've got going on in your shopping mall in the elevator. This way, whenever people or going up or down in the shopping mall, they'll be able to see the various offers in your mall, and if they catch their fancy, they'll instantly head to those shops.
You should try to put these offers as close to the elevator buttons as possible because the eyes of the shoppers will scan this region first. It also helps to put up posters of some offers on the walls on each floor next to the elevator buttons. This way, the shoppers who are waiting for their elevators will easily be able to see your offers, and some of them may catch their fancy.
4. Door Advertising
The entrance of your shopping mall is one of the best places to advertise your offerings. You can come up with attractive posters and stick them to the entrance of the shopping mall. Whenever shoppers enter the mall, they'll notice the posters. This ensures that every single person entering the shopping mall will be aware of the offers.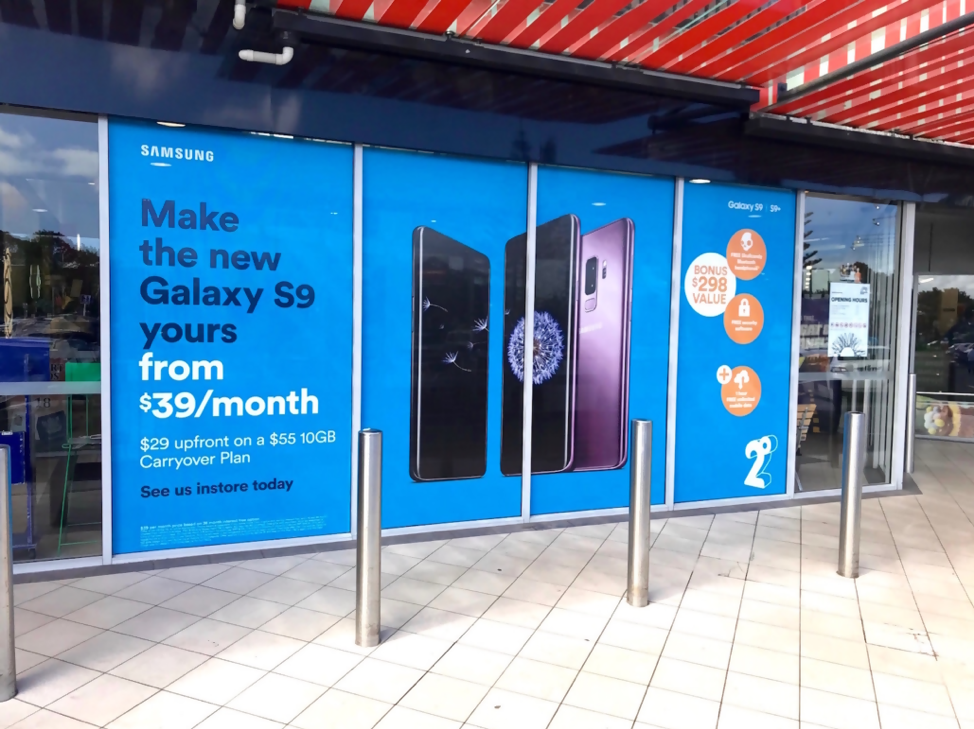 Image via adzup
At the same time, the size of the poster will need to be fairly large. This reduces the chances of people missing out on seeing the offers. Try to get as creative as possible with these posters to get maximum attention.
5. Footsteps or Directions
One of the most innovative ways of advertising in the shopping mall is through footsteps and directions. You can put up footsteps on the floor that direct shoppers to stores where there's an ongoing promotion. These footsteps should be placed right at the mall entrance and should end at the store's entrance.
Alternatively, you can put up directions for the store at every few meters' distances. These can guide shoppers to the stores. However, footsteps or directions aren't enough to get people to the stores. You need to lure them.
The best way of doing so is by adding some text to these directions and footsteps. You could add verbiage such as "50% discount this way" or "You're 10 steps away from discounts." Verbiage like this can instantly grab the attention of the shoppers and push them to reach your stores. This can help in improving foot traffic to those stores, and in turn, increase their revenues.
Final Thoughts
Shopping malls thrive on shoppers, and you must do everything in your power to ensure that they keep returning. Those who reach your shopping mall must purchase from your tenants to ensure that they keep generating revenue. Put up posters in the shopping mall and its stores. Utilize your elevators, escalators, and doors for advertising well too.
Proximity marketing can be a great asset, and you can send out offers and alerts to all the shoppers in seconds through it. Lastly, come up with innovative advertising methods such as putting up footsteps or directions with offers on them.
What are the other ways through which you can do indoor mall advertising? Let me know in the comments.